Board of Directors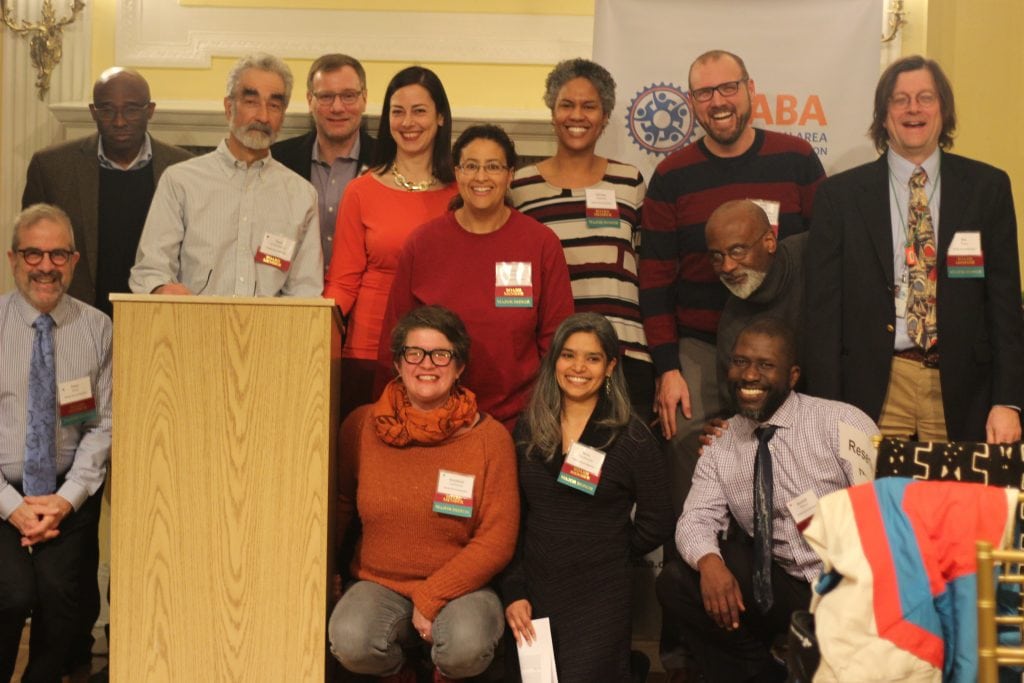 Joanne Neukirchen, President
Board Member since: 2014
Current Term: 2019-2021
Read Joanne's Biography
Joanne Neukirchen is a long-time DC resident and avid cyclist who is committed to improving cycling infrastructure and education opportunities throughout the Washington Metro Area, for all cyclists. Ms. Neukirchen loves cycling in all its forms — she has taught WABA's Adult Education Classes, competed in amateur road races and local triathlons, and organized rides for a local cycling meetup group, VeloDCity. Ms. Neukirchen began working closely with WABA in 2013 as a member of a pro-bono consulting team focused on board governance and the strategic alignment of WABA's mission and programs. Today she serves as the President of the Board. Ms. Neukirchen recently transitioned from a career in management consulting to a career in public service at the Federal Emergency Management Agency. Ms. Neukirchen holds a Masters Degree in Public Administration from Syracuse University and two Bachelors degrees from the University of Maryland in Government & Politics and Cell Biology & Molecular Genetics.
Carl Turpin, Vice President
Board Member since: 2019
Current Term: 2019-2021

Read Carl's Biography
Carl is an avid bicyclist. While at Howard University in the early 70s, Carl rode a bike throughout the District. In the late 70s, Carl and his wife moved to Chicago, Illinois and he continued to ride a bike most weekends and several times a week he commuted by bike to work. Carl and his wife returned to the District in 2010 and he commutes by bike to work by way of the Metropolitan Branch Trail. Carl is a lawyer and has been practicing employment and labor law for over 30 years. Carl plans to retire from the active practice of law and spend a considerable amount of time repairing discarded children's bike to be donated to elementary school students. Carl is very active in the Queens Chapel Civic Association and the Washington Bar Association.
Jessica Hough, Treasurer
Board Member since: 2017
Current Term: 2019-2021
Read Jessica's Biography
Jessica is a long-time resident of Bethesda, MD and commutes to work in downtown DC several times a week. On weekday mornings and evenings she can often be found puttering along MacArthur Blvd and the Capital Crescent Trail on her way to and from the office. Jessica is committed to making bicycling more accessible and viable for all residents in the DC area and continuing the work WABA has done towards making bicycling in the area safer. Jessica and her partner enjoy biking together recreationally with their two kids. During the day, Jessica is a tax attorney and leads her law firm's DC tax practice.
Shelley Vinyard, Secretary
Board Member since: 2020
Current Term: 2020-2022

Read Shelley's Biography
Shelley dove headlong into the world of riding bikes when she was in college and decided to join a team that rode 4,600 miles from Austin, Texas, to Anchorage, Alaska, to raise money for cancer research. After that  incredible two-and-a-half month trek, her love of cycling never ceased. Now, she lives in the Eckington neighborhood of Northeast DC with her husband and their two-year old daughter, and bikes to work year-round and recreationally as often as possible. By day, Shelley leads a campaign to protect Canada's climate-critical boreal forest for the Natural Resources Defense Council. By night, she advocates for safer streets for all, affordable housing, and a city that protects its residents from climate change and advances policies that make it a leader in addressing the climate emergency. As one of WABA's newest board members, she looks forward to using her experience raising money for organizations and campaigns to help WABA increase the resources it needs to be an excellent and effective advocate for bicyclists across the DC region. Shelley graduated from the University of Texas at Austin with degrees in psychology and sociology.
John Days
Board Member Since: 2021
Current Term: 2021-2023
Llewelyn Engel
Board Member since: 2020
Current Term: 2020-2022

Read Llewelyn's Biography
Joining the WABA Board in 2020, Llewelyn is newer to city bicycling and excited to help more people incorporate bicycling into their lifestyles. Llewelyn grew up in Northern Virginia, and moved to DC in 2011. She began commuting by bicycle when she moved to a new neighborhood in 2017 and has learned to love her commute and the time spent bicycling each day. Bicycling quickly became her go-to mode of transportation, no matter the weather, and she looked for ways to become more involved in DC's bicycling community. After doing WABA's 50 states ride, Llewelyn was inspired to become more involved and advocate for safe and accessible bicycling opportunities for all the DMV's residents. In her day job, Llewelyn is a lawyer at the firm of McDermott, Will & Emery where she is a member of the firm's Government Strategies group.

Allison Foster
Board Member since: 2020
Current Term: 2020-2022

Read Allison's Biography
Allison Foster is a committed bicyclist who commutes each day from Pentagon City to Dupont Circle via the Mt. Vernon Trail. Ms. Foster is active in the non-profit community in Washington DC area. She is an item-writing for the CAE certification exam, has served as treasurer of a board of directors for an organization helping people with disabilities find employment opportunities and is current Vice-Chair of Synetic Theater. She is also active with her church, participates in a program which offers financial counseling to low-income residents, volunteers at the Arlington Food Assistance Center, and is assistant-chief of an Arlington community garden. She is the Chief Finance and Operating Officer of the Association of Schools and Programs of Public Health, a national membership for public health education. She oversees membership, operational and financial functions of the Association. She is also the President of the National Board of Public Health Examiners which administers the Certified in Public Health (CPH) credential. Allison earned her MBA from James Madison University and is a Certified in Association Executive.
Peter Gray
Board Member since: 2012
Current Term: 2020-2022

Read Peter's Biography
Peter is a retired commuter cyclist sometimes using the Metropolitan Branch Trail alignment that WABA championed as he travels from Silver Spring to downtown DC. He has done bike touring in the Sierra mountains in eastern California, on Skyline Drive in Virginia and on the back roads of Maryland. He was active with the Coalition for the Capital Crescent Trail, serving as Board Chair for four years. 25+ years ago when he moved to DC from the Midwest, he had stopped biking, but picked it up again in earnest after participating in Bike DC. He used to work for the US Department of Justice Antitrust Division, trying to keep prices down for consumers of telecommunications products. He is currently helping the WABA Montgomery County Action Committee push the County to launch its first protected bike lanes in downtown Silver Spring and elsewhere.  He is also busy pushing Montgomery County to implement its new Bicycle Master Plan and Vision Zero, lobbying the Maryland legislature for more funds for biking, while also chairing the WABA Resources Committee and the WABA Advocacy Task Force.
Nick Johnson
Board Member since: 2021
Current Term: 2021 – 2023
Kira Marchenese
Board Member since: 2020
Current Term: 2020-2022

Read Kira's Biography
Kira Marchenese logs most of her bike miles riding tandem with her partner, Eric, from their home in Washington, DC. Bike touring is their favorite way to explore, both locally and when they travel. Kira appreciates the improvement in DC's bike infrastructure over the past ten years, and looks forward to the day when she feels safe piloting her single bike on city streets during rush hour. Professionally, she is a veteran digital strategist. She has led Environmental Defense Fund's digital team for 15 years, supporting the organization's communications, marketing, advocacy and fundraising. Before that, she helped launch the original Washington Post web site and managed search and navigation products at AOL. She earned her undergraduate degree in public policy from Duke University, and her masters in public administration from Harvard's Kennedy School. She served on the board of the youth development organizations Project Create and On-Ramps to Careers. She also enjoys drawing, including designing tandem-bike-themed holiday cards.
Chioma Ohalete
Board Member since: 2018
Current Term: 2019-2021

Read Chioma's Biography
Joining the WABA Board in 2018, Chioma exudes a passion for smart bicycling and a healthy lifestyle. She made her way to DC to complete her residency in Family Medicine and now makes the city her home. Though she is fairly new to DC, Chioma has a long history with bike commuting and touts herself as a car-free, fair-weather, year-round commuter. She enjoys bicycling for both fitness and pleasure. She has volunteered as a marshal for WABA during the Cider Ride (one of her favorites) as well as the 50 States Ride (where she met her partner). Her passion for community engagement is longstanding and widespread, evident by her two year stint in Mozambique where she taught Biology and English while serving in Peace Corps. When she's not bicycling or caring for patients, Chioma enjoys exploring her many other hobbies. She stays active volunteering as a medical runner and leading her group the DC Heritage Walking Club on self-guided walks around the city. She has a particular penchant for cooking and preparing plant-based cuisine. In her spare time, Chioma enjoys taking advantage of the vibrant art and theatre scene in Washington, DC. Chioma looks forward to contributing her unique perspective to WABA and DC's bicycling community.
Marya Torrez
Board Member since: 2021
Current Term: 2021-2023