Create the Silver Spring Circle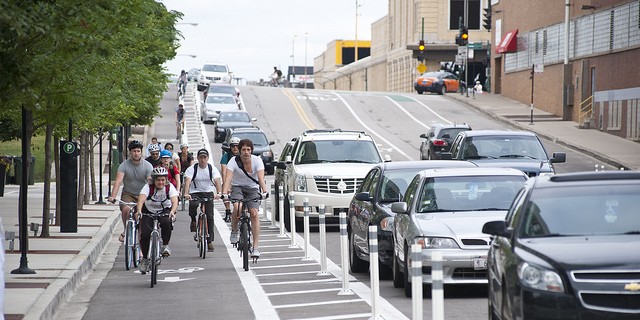 For a More Bikeable, Walkable, Livable Community
Improvements are Needed in Downtown Silver Spring
Downtown Silver Spring is growing. Young adults, families and older residents are attracted to the convenience of living near the places where they work and play. And with the dense mix of transit, offices, entertainment, shops and homes, it should be a paradise for walking and biking. But, it's not. With high speed traffic and a lack of dedicated space for bikes on the busy streets in downtown Silver Spring, most residents don't feel safe biking in the road.  Some ride on sidewalks, mixing with people on foot. But they too must contend with wide and intimidating intersections. There is a desperate need for safe and comfortable bike routes and intersections.
The Solution
Vibrant streets, alive with people and activity are within sight. By repurposing unused road space and right-sizing extra-wide lanes, we can create the Silver Spring Circle, linking destinations in and around Silver Spring's downtown, with a network of safe, low-stress places to bike. This network of protected bike lanes, which place parked cars or vertical barriers between bicyclists and car traffic, opens new transportation options for residents and visitors, young and old.
Lanes on Second Ave, Wayne Ave, Spring St, Cedar St, Fenton St, Cameron St and Ellsworth St, along with new signage and bike parking will make most destinations safe, comfortable and accessible by bike. It would also represent a first step in connecting downtown Silver Spring to the many existing bike trails already in our region. Read more about the benefits of protected bike lanes
here
.
Benefits to the Community
Protected bike lanes in the Silver Spring Circle will provide a safe and comfortable bicycle route in and around downtown Silver Spring for residents and visitors of all ages and riding levels.
Protected bike lanes create safer street crossings and more pleasant places to walk by reducing speeding, shortening street crossing distances, adding pedestrian refuges, and providing a buffer between moving vehicles and sidewalks.
Improving bicycle access and adding bicycle parking supports local establishments with easier access to shops, restaurants, entertainment and other businesses, while reducing traffic congestion. On many streets, protected bike lanes can be installed with minimal impacts to on-street parking.
The Silver Spring Circle will connect to and complement the planned multi-use trails coming into Silver Spring in the next few years. Seamless connections provide active transportation options, support the environment, improve the health of residents, and attract visitors and tourists.
Exciting Progress
In 2016, the Montgomery County Council
approved new funding
 to build a network of protected bike lanes in downtown Silver Spring and a handful of other Bicycle Pedestrian Priority Areas in the county. In 2017, we
celebrated completion
of new 
protected bike lanes on Spring St and Cedar St
, stretching almost one mile from Second Ave to Wayne Ave and new bike lanes on Cameron St. In July, 2018, MCDOT broke ground on 
protected bike lanes on Second Ave and Wayne Ave
between Spring St and Georgia Ave and finished in October, 2019. A study to explore options for Fenton St protected bike lanes will begin in fall 2019, and construction on Dixon Ave protected bike lanes is expected to start soon. If you share our vision for a more bikeable, walkable, and livable Silver Spring, please click below to sign our petition. We will keep you updated on this campaign's progress and let you know how to get more involved.
Updates
This campaign is brought to you thanks to WABA's Action Committee for Montgomery County. Get involved! Come to our next Action Committee Meeting (the 4th Monday of the month at 7pm at the Silver Spring Civic Center (
more info
)