International Walk (or Bike!) to School Day!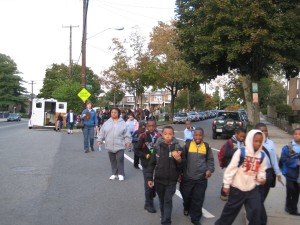 Tomorrow, October 6th, is International Walk and Bike to School Day. Thousands of schoolchildren in Maryland, DC and Virginia will be gathering in parks, school yards and cul-de-sacs and then walking or biking to school. In the District of Columbia, 13 schools are hosting events. They include: Payne Elementary, Tyler Elementary, Watkins Elementary, Whittier Elementary, Peabody Early Learning Center, Maury Elementary, EL Haynes PCS, Brent Elementary, Janney Elementary, Eaton Elementary, Kimball Elementary, Leckie Elementary, Stuart Hobson Middle School and the Lowell School. WABA has supported all of these schools with Safe Walking and Biking classes and bike rodeos to encourage more children to walk or bike to school. In an era where childhood obesity has become a national epidemic, WABA has embraced and promoted the
Safe Routes to School
Program as a very effective tool in what should be an arsenal to combat this troubling trend.  DDOT has won federal funds to repair or install sidewalks, install traffic calming measures, paint crosswalks, and make many other hardscape improvements to make the roads and sidewalks around schools much safer for children to walk. WABA's role includes the encouragement and education portion of Safe Routes and we've been a proud partner with DDOT since the inception of the Safe Routes to School program. With Safe Routes to School in place, WABA hopes that children and adults will view walking and biking as a lifelong healthy habit.