Celebrating the life of Eve DeCoursey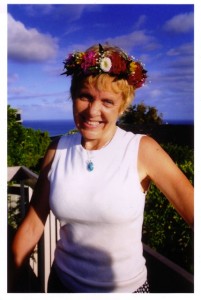 With a dignity and grace all her own, Eve DeCoursey passed away peacefully on Wednesday, November 24, 2010 with family and friends by her side.  Eve first began working with WABA in 2006 when she responded to a job announcement for the Education program.  Dorcas Adkins read her application and called her immediately, persuading her to consider instead a different position that combined Development Manager with her beloved Pace Car program, new to WABA for the coming year's Safe Routes program in DC. She took this on and more, becoming WABA's resident graphic artist and feng shui specialist as well. Our office on Conn. Ave. was already outgrown and she helped us put up with its cramped spaces by artfully rearranging them many times. Under her nurturing care, WABA's newsletter Ride On was given the beautiful layout we see now. She helped dozens of bike advocates find places to stay in DC through coordinating the home stays for the National Bike Summit, was a League Certified Cycling Instructor, and taught dozens safe cycling through helping teach WABA's Confident City Cycling classes. Before her time at WABA, she had a lengthy and extremely impressive athletic and professional resume.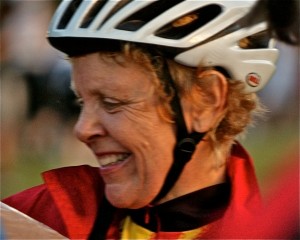 Bicycling for her was not an obsession but an extension of her physical being.  She was passionate about restoring sanity to our streets.  Eve was a top triathlete in Hawaii and the 1985 State Champion before turning her attention to the advocacy side of cycling where she became Hawaii Bicycling League's (HBL) first Executive Director. Over the course of 15 years she built the organization from one cardboard box to an organization with 10 employees. She has box full of trophies from past races, and an award from the Mayor of Honolulu for establishing "Red Sneaker Week" getting kids to walk to school. The Hawaii Bike-ed program is the most comprehensive in the country – every elementary school kid participates with real on-road trainers.  She was a professional typesetter and composed and typeset all of the newsletters for the Hawaii Bicycling League for 15 years as well as serving as its Executive Director.  She could type close to 200 words/minute! She established the Oahu Island circumference ride and this year's Honolulu Century Ride was dedicated to Eve by her friends at HBL. She organized the Honolulu Wheelchair Marathon – an adjunct to the huge annual marathon; recruiting and training the several dozen bicycle marshals who rode along with the wheelchair racers.  She had a warm spot in her heart for adults who wanted to learn to ride and had infinite patience as a teacher. She worked as a transportation planner for the City of Honolulu.   She was a much loved icon in Honolulu – hard to walk the streets without her yelling, Hi! to someone. She started her tri-athletic career in the early 80's while living in Pikesville MD and working for University of Maryland Baltimore County as a typesetter.  Eve trained tri-athletes with Brian Clark, nationally recognized author and expert on running technique – Island Tri-Training.  She trekked the 3-day hike down Maui's Haleakala Crater 35 times in her life and lived in the Hawaiian rainforest for 6 months living only on locally available wild fruits and vegetables.  She was trained as a classical concert pianist and took in foreign students and coached their English. We've been missing Eve's presence in the office for many months already, since the day last Spring when she regretfully resigned her position. Much that she has done for WABA will stay with us, in the form of the layout she bestowed on our new office in Adams Morgan last winter. Her legendary passion for bicycling has become a part of WABA- she has never turned down a call from a prospective cyclist in need of lessons or from a local homeowner requesting a Pace Car sticker. Thanks to Eve, WABA's gratitude is shown to its volunteers as never before. All of these things have been incorporated into the WABA culture because of her. Despite her proper sounding speech mannerisms with a tinge of Canada mixed in, she was an uncomplicated and trusting soul who couldn't comprehend mean-spiritedness or dishonesty.  Aloha, Eve.