Seeking Sponsorship for Freedom Plaza Bike to Work Day Pitstop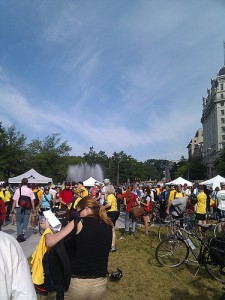 The Washington area's annual celebration of bicycling as functional transportation–Bike to Work Day–is scheduled for May 20th, and WABA will again be hosting the Freedom Plaza pitstop in downtown DC.  This year's new format will place more stops throughout the region, making it easier to find a stop near one's office.  But many festivities, including main stage and speakers, will again be hosted by WABA at Freedom Plaza. We are seeking sponsors who are interested in showing their support for cycling in the region by helping to fund this key annual event.  This is WABA's most visible sponsorship opportunity, as it puts your corporate name and logo on the Freedom Plaza Bike to Work Day marketing materials and registration site, and provides you with a table on-site and access to VIP amenities.
WABA is truly appreciative of our event sponsors and corporate supporters, as their contributions allow us to cover the costs of outreach events and services so that membership dollars can be focused on member services and bicycle advocacy.
To discuss sponsorship of the Freedom Plaza Bike to Work Day Pitstop or any other WABA Event, or to become a corporate supporter, please email: Jenn@test.waba.org or Kevin@test.waba.org
And, of course, to register for Bike to Work Day 2011:
click here.