Upcoming Spring Bike Valets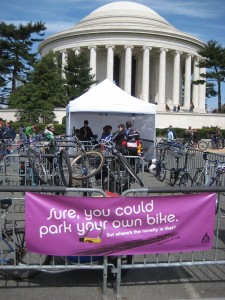 WABA is hosting a variety of bike valets this spring, and we'd love to see you out there! We'll be at the following locations through April:
National Cherry Blossom Festival: Saturdays and Sundays throughout the festival (March 26/27, April 2/3, and April 9/10). We'll be at the Jefferson Memorial from 10am-6pm each day, though the racks will be available all three weeks, and unattended racks will be available at the other location at 14th and Independence. Check out our Cherry Blossom Festival page for more information.
Fireworks during the Cherry Blossom Festival, sponsored by PN Hoffman: Saturday, April 2 from noon to 10pm. We'll be stationed at the Southwest Waterfront (7th and Water St., SW), so leave your bike with us, enjoy the festival and fireworks, and bike home safely after you're done.
National Sustainable Design Expo: Saturday, April 16 from 10am to 5pm and Sunday, 17 from 10am to 3 pm. The expo will be on the National Mall and will bring together students, scientists, engineers, and business leaders whose innovative technologies are designed to advance economic growth while reducing environmental impact.
We need 4-8 volunteers for each one of our bike valets, and we'd love your help. Check out
our events page
for more information, and email kevin@test.waba.org with questions or to sign up for a shift or two!