New to Biking in Traffic? Consider a Class to Improve Your Skills & Safety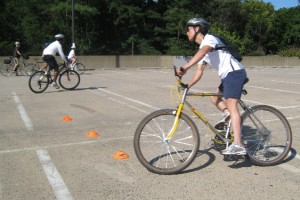 With so many new cyclists coming to the roadways this week, we wanted to take a moment to remind everyone that WABA offers a full range of classes to help you be safer on the streets and trails. In the days preceding Bike to Work Day, we get dozens of requests from the media to "tell us what cyclists need to do to be safe."  We try to fit what we can into soundbites, but it's worth taking the time to learn from qualified instructors.  New cyclists will learn a lot that will help them be safer on the region's roadways and trails, and experienced cyclists might learn a few additional tips or unlearn unsafe habits.
CLICK HERE
to see our course offerings and schedule.