WABA & Spokes Etc. (Alexandria) Want to Help You to Bike to Work
WABA's Workshop Series brings FREE bike education workshops to your neighborhood! You can read more about our Workshop Series here. Want to bring a WABA Workshop to your local bike shop? Just call them and ask them to request one! You can use our list of local bike shops in the region. Questions? Comments? Email daniel@test.waba.org or call 202-518-0524 x200.
Interested in finding out more about commuting by bicycle? The Washington Area Bicyclist Association and Spokes Etc. Bicycles in Alexandria are teaming up to bring you the Bike Commuter Clinic! This is the perfect opportunity to interest your friends and coworkers in bike commuting. Don't forget, National Bike to Work Day is right around the corner!
Sign up for the Bike Commuter Clinic  here.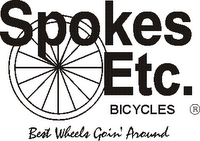 Date
2/29/12
Time
6:30pm
Location
Spokes Etc. Alexandria 1545 N. Quaker Lane Alexandria VA 22302
Join Daniel Hoagland, WABA's DC Bike Ambassador Coordinator as he presents tips, tricks, and essential knowledge for commuting by bicycle in the Washington DC area. Daniel is a League Cycling Instructor, has taught many different cycling classes, and is heavily involved in community cycling resources throughout the area. The clinic will address safe bicycle commuting techniques and equipment, riding in traffic, safe routes for commuting, preparing for your ride, and more. Plus, we'll show you a wide variety of bikes and accessories you can use to get you ready to ride. We'll even have a couple of commuter bikes set up and ready to roll. Refreshments will be served. Due to space constraints, you must register beforehand here. For more information, call Spokes Etc Alexandria at 703-820-2200 or email Nate Graham, Communications Manager, at ngraham@spokesetc.com Thank you!