Event Recap: Down the Tubes Ride with DC Water
Author's note: to fully enjoy this entry please pour yourself a nice cold cup of tap water.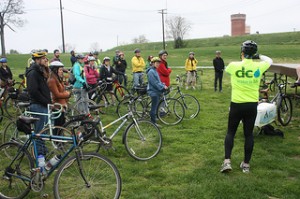 At first glance, WABA's
Down the Tubes Ride
, a combination of biking and our sewer system, might have seemed like a bizarre April Fools joke in the making. And well, we only have one thing to say to the suspicious observers out there; you missed out! For the 50 WABA members and staff who participated, it was a fun ride, and a fun way to discover what lies beneath our city streets. We owe the day's successes to the warm spring weather, and DC Water. As part of their effort to raise awareness on the city's water enhancements, DC Water opened up their doors, provided bike racks and snacks, and showed off their facilities. Thank you DC Water!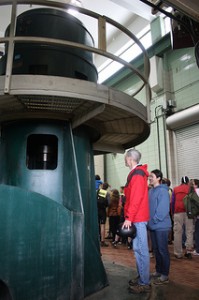 We stopped at four sites along the way, beginning with The Fort Reno Water tower, the highest point inWashington. We learned about the sources of our water, and the power of gravity in the system. Then we took advantage of our own gravity and meandered through NW DC, along McMillan reservoir to
The Bryant St. Pump Station
. After a presentation on the how water is pumped to service areas within the District, we explored the cavernous pumping room and set off to our next destination. The trip down to the O St. Pump Station was especially pleasant along the Met Branch Trail and in the new new bike lanes in SouthEast DC. The first stage of storm and waste water treatment occurs at 
The O St. Pump Sta
tion
.The highlight of the day for many was seeing this process  first-hand. There's no need to go into graphic details here, but we certainly encourage you to check it out yourself! We ended the day at Poplar point, a small brick gazebo-like structure on the East side of the Anacostia River. Once water is treated at O St. it's  pumped below the river to Poplar Point and on to Blue Plains, the biggest advanced water treatment facility in North America. At Poplar Point we learned about the
Clean Rivers Project
 the city's commitment to address combined sewage overflow (CSOs).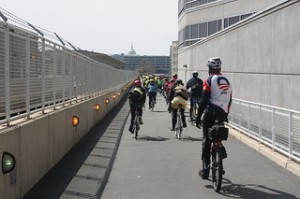 Thanks again to DC Water for making the day possible, and to our ride marshals for volunteering their time. Logistically, the tour was a breeze on our bikes, and we're looking forward to creating more rides of this sort. To explore more, we encourage you to visit our
photo slideshow
,  
DC Water's website
, and check out local blogger
Ghosts Of DC
for more rare discoveries of our city and our water infrastructure.