Do You Like Bike Parking? Want to Make it Better in DC?
WABA seeks a Bicycle Parking Program Coordinator to assess locations for bike parking and to install bike racks throughout the District. This is a unique job. It involves traveling the city, often by bike pulling a trailer and carrying tools, to install bike parking racks. It also involves becoming a resource to answer bike parking-related questions for businesses and property owners. You will need to be willing and able to bike with a trailer, lift 50 pounds (occasionally more), learn appropriate installation techniques and use a hammer drill safely. You will also need to become an expert on the regulations governing bike parking requirements and installations in public space. Most importantly, you need to be detail-oriented and self-directed, and committed to making the District better for bicycling one bike rack at a time.
Benefits include flexible schedule, pro-rated vacation, sick and personal leave and WABA's retirement and health insurance programs. The position is part-time, 32 hours per week.
About the Washington Area Bicyclist Association:
Making bicycling better through advocacy and education, the 
Washington Area Bicyclist Association (WABA) 
promotes biking as a healthy, low-cost and environmentally-friendly form of transportation and recreation. With 4,000 members region-wide, WABA serves bicyclists throughout the Washington, DC Metropolitan Area including the District of Columbia and parts of Maryland and Virginia.
Contact:
Send a cover letter describing why you are the person for the job along with a resume to 
jobs@test.waba.org
. No phone calls please.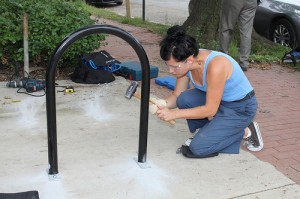 Applications accepted until the position is filled. WABA is committed to providing equal employment opportunity for all persons regardless of race, color, religion, national origin, marital status, political affiliation, sexual orientation or gender identity, disability, sex or age.