Car Free Day a Good Time to Reflect on Transportation Options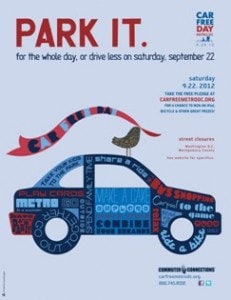 This Saturday–in addition to being the date of WABA's 50 States Ride–is Car Free Day in the region.  On this day, everyone is encouraged to pledge to "eliminate or reduce driving."  But beyond just taking the pledge to drive less on Saturday, Car Free Day also provides a point to stop and think about our region's transportation options.  For many years in this region, it was pretty much assumed that people would drive and/or use public transit.  Those of us who worked on biking were a fringe minority, and there weren't many additional options.  In parts of the region there still aren't, and we need to acknowledge that fact and redouble our efforts to ensure that the level transportation choice that is becoming a selling point for the region isn't leaving some communities behind. But where providing options is profitable (or at least marketable), there is a level of transportation choice that could not have been imagined just 5 years ago.  And many are working to expand the reach of these options.
Biking, Capital Bikeshare, pedicab. Zipcar, Car2Go, Uber, taxi. WMATA bus, RideOn, Connector, Call-A-Bus, Circulator. Slug Lines. Commuter buses. Metrorail, MARC, VRE, Amtrak.
In the Washington area, you probably have unprecedented access to alternatives to the private automobile.  Car Free Day presents a good opportunity to reassess your options and ask, "Do I really need to drive where I'm going?" This is not a blanket attempt to get people to get rid of their cars.  In some cases, the car or truck is the right tool for the job.  But it is a question worth asking with some regularity.  As more alternatives arise, it is important to take a moment to re-assess whether that private vehicle is still the right tool for the job, or whether it's simply the one we've become accustomed to using. One of WABA's main goals is to ensure that biking is a viable option for getting around the region for as many people as possible, and that biking is compatible with as many of those other available modes of transportation as possible.  Whether people throughout the region are gaining the freedom not to rely on private automobiles is a good barometer of our success. Consider using Car Free Day as a way to test whether that car is really still as necessary as it has been in the past, or whether new transportation options and new bike infrastructure has given you a better alternative for some or all of your trips.  Pledge to go car-free or car-lite on the 22nd at: 
http://www.carfreemetrodc.com/pledge-to-car-free.php
.