Announcing WABA's Business Membership Program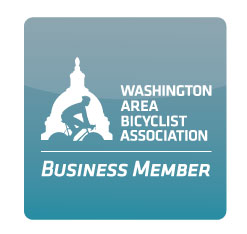 Dense, accessible neighborhoods are becoming more and more popular, and the Washington area is no exception: The region is growing rapidly. More people need more ways to get around, and bicycling is a safe, convenient, and affordable way to do so. And more people also need more amenities and services. For 40 years, WABA has worked to make the D.C. area better for bicycling through education, advocacy, outreach, and organized events. As we move forward in 2013, we will continue our advocacy campaigns, but we need to expand our reach. In order to build a truly walkable, bikeable region, we need the support of the community at large. One way to engender that kind of support is by connecting with area businesses through our
Business Membership program
, which we're launching in earnest this year. We're really excited by the prospect of working with businesses who recognize the value of biking and want to encourage it among their staff and customers. As a WABA business member, a business gets better access to and involvement in a community that actively seeks better opportunities for cycling. Bike-friendly businesses can show their dedication to cycling, and businesses interested in becoming more bike-friendly can rapidly boost their efforts. And the support goes both ways: Bike-friendly businesses attract employees and customers that are interested in working for and supporting the cause, and employees and customers are healthier and happier to be in an environment that supports their transit mode of choice. We want to extend a huge welcome—and thanks—to the five businesses who have already joined up with us for the Business Membership program's launch:
VeloCity Bicycle Cooperative
(our founding member!),
Ecoprint
,
KGP Design Studio, LLC
, 
The Motley Fool
, and
Bike and Roll
. Expect to hear more about these businesses on our blog, Twitter, and Facebook. If you know of a business interested in
membership
or want to learn more about the program, check out our
business membership page
or contact our Membership Coordinator, Megan Van de Mark, at membership@test.waba.org or by phone at (202) 518-0524 x203. If you already think this is the coolest thing ever,
join as a business member today
!