Welcome New Bike Ambassadors!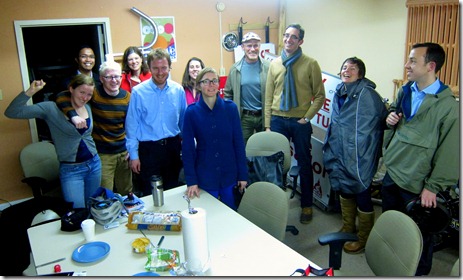 Our first bike ambassador orientation session of 2013 started out with a bang: We brought 17 new ambassadors on board! We'd like to welcome all of them to the team. Bike ambassadors reach out to and educate cyclists, pedestrians, and drivers about what it means to ride a bike in the D.C. area. These enthusiastic volunteers are dedicated to promoting safe cycling for fun, fitness, and transportation and work to make bicycling more accessible to everyone in D.C. This spring, you can expect to see the ambassadors out on the streets acting as mobile information booths, passing out D.C. bike maps, and attending community events, health fairs, and farmers markets. We are focused on being "roll" models throughout the community and hope to break down the barriers that prevent people from biking. Look for us in your neighborhood! Orientation for bike ambassadors is held on the third Tuesday of the month from 6:30-7:30 p.m. at the WABA office at 2599 Ontario Road NW. Upcoming trainings will be held on:
Tues., Feb. 19, 2013
Tues., March 19, 2013
Tues., April 16, 2013
Use the
sign-up page to reserve your spot
. Each session is limited to the first 10 people to register. To learn more about what bike ambassadors do and how the program spreads the good word of bicycling in D.C., click
here
. Please contact Megan McCarty at
megan.mccarty@test.waba.org
or by calling (202) 518-0524 x200 with any questions. — Confidential to existing bike ambassadors (if you've gone through a training, that's you!): We're throwing you a party tomorrow night. Come to our office from 6:30 to 8:30 p.m. for free pizza and socializing in appreciation of your efforts to spread the word about better bicycling. If you missed the link to RSVP in the email we sent out last week, you can
sign up here
. Remember, this is for current ambassadors only; if you're interested in becoming one, follow the instructions above.