Virginia's Dooring Bill To Be Heard in the House Tomorrow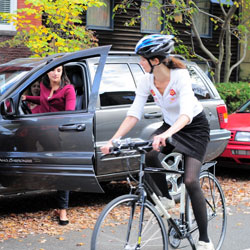 Tomorrow,
SB 736
will be heard in the full transportation committee of Virginia's House of Representatives. SB 736 would make it illegal in Virginia to "open the door of a motor vehicle on the side adjacent to moving traffic unless and until it is reasonably safe to do so." A violation would constitute a traffic infraction punishable by a fine no more than $100. We've written about the dooring bill here
previously
and have urged you, if you're a Virginia resident, to take action to support it. Thanks in part to your dedicated and vocal support, SB 736 passed the House's transportation subcommittee, where it was voted for by delegates Richard Anderson and J. Randall Minchew. We appreciate any additional support you can give to SB 736 in advance of its hearing tomorrow at 1:30 p.m. Constituents of delegates Anderson and Minchew should express thanks for their support of the bill in subcommittee, and constituents of Thomas Rust and Barbara Comstock should reiterate that their support is needed for this bill, which would make dooring illegal. Contact information for Virginia delegates can be found
here
.