Tour de Fat: A Primer
What's Tour de Fat?
Tour de Fat
is an all-day festival at Yards Park on Sat., June 1 for those who enjoy bicycles and beer (the event is sponsored by 
New Belgium Brewing
). It's silly, whimsical, and packed with activities, but also a great opportunity to celebrate the region's growth in, commitment to, and love for bicycling. The day kicks off with a
bicycle parade
at 11 a.m. (registration and check-in begins at 10 a.m.).
Costumes are highly encouraged.
The beer starts flowing aoon. There will be music and entertainment, merchandise sales, a bicycle pit, and local shops and nonprofits staffing interactive tables and booths  from noon to 5 p.m.
Why you should go:
It's hard to properly explain what Tour de Fat is (though you can see an overview of last year's
here
). It's an experience. It's a daytime party that's also family friendly. It's a way to give back to area bike-advocacy groups. It's a chance for you and hundreds of others to ride your bikes dressed in crazy, wacky costumes. It's a reason to drink a beer at noon on a Saturday. And there's plenty of great entertainment. It's also free. We do ask for a $5 donation to participate in the preceding bicycle parade, but there's no admission fee to Tour de Fat itself. Beer and merchandise sales, as well as parade donations, go directly to improving bicycling in the D.C. area.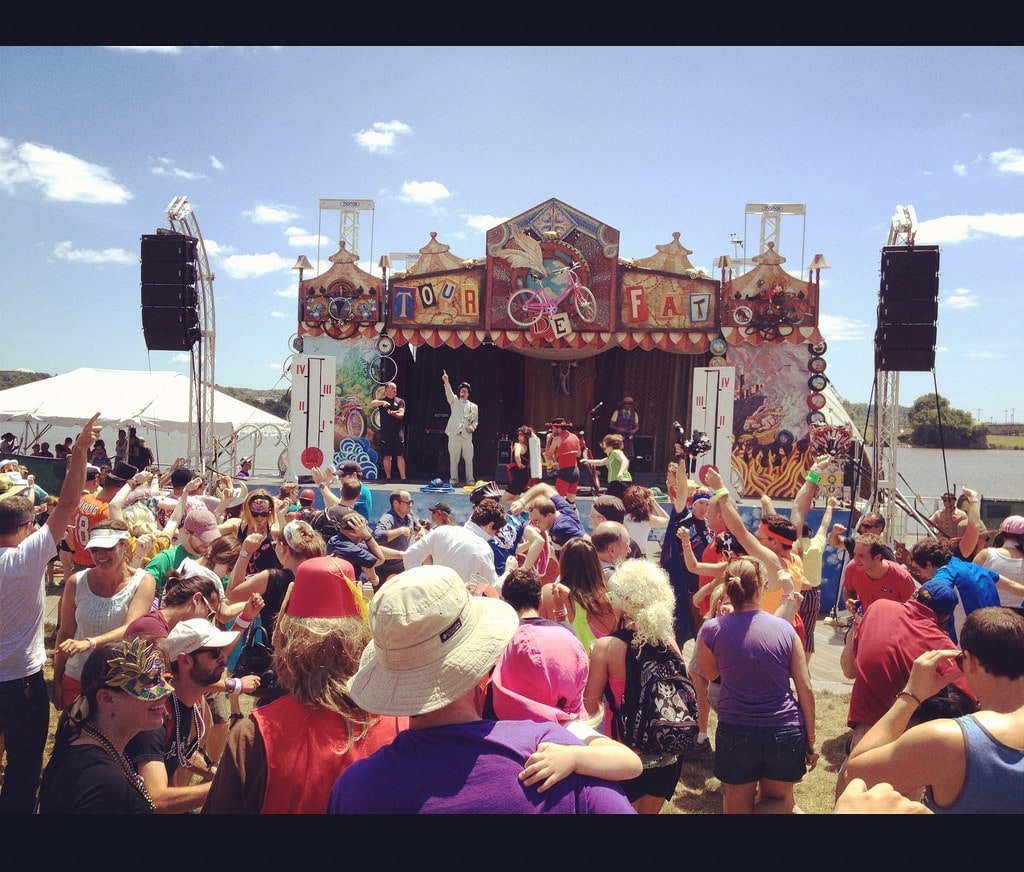 Who should come to Tour de Fat?
People who ride bikes
—often, occasionally, and rarely. It's a bicycle celebration, but you don't have to ride your bike there. You don't even have to have ridden your bike in the last ten years. We want anyone who's tangentially interested in bikes to come out for the parade and festivities.
People who drink beer
—or not . Just because New Belgium is sponsoring Tour de Fat doesn't mean you have to drink to be there. There are plenty of other ways to enjoy yourself and many other food and drink option at the festival and around Yards Park.
Families and children.
Tour de Fat is a family-friendly event. There will even be a side tent running puppet shows for the event's youngest guests. Music and art lovers. There will be bands, spoken word, storytelling, and other performances around the Yards Park grounds all day long. Prepare to be amazed! You may even win the Thousand Person Dance Contest and receive a New Belgium cruiser bike for your efforts.
What does Tour de Fat support?
Proceeds from the event go directly back to five local bicycle organizations: WABA, Black Women Bike DC, Fairfax Advocates for Better Bicycling, the Mid-Atlantic Off-Road Enthusiasts, and Phoenix Bikes.
WABA
(that's us!) works in the greater D.C. area to get more people on bikes, make bicycling safe, and expand and enhance bike infrastructure. We want to make getting to places by bike easier and a more viable transportation option.
Black Women Bike DC
is a rad group of ladies who build community and interest in riding bikes among black women through education programs, advocacy, and bike rides.
Fairfax Advocates for Better Bicycling
 works to make bicycling an integral part of the transportation network in Fairfax County, Va. They sponsor social rides throughout Fairfax and work on numerous advocacy issues to make bicycling there more accessible.
Mid-Atlantic Off-Road Enthusiasts
 represents the area's mountain bikers and works to maintain regional trails. MORE organizes hundreds of rides and events per year.
Phoenix Bikes
is local bicycle co-op that supports youth in the D.C. metro area, providing a safe, nurturing, and educational environment that reinforces teamwork, hard work, and entrepreneurship through bike maintenance and education programs.
We'll see you June 1st at Tour de Fat!