Drink at Policy, Support Climate Riders Rebecca and Leigh Ann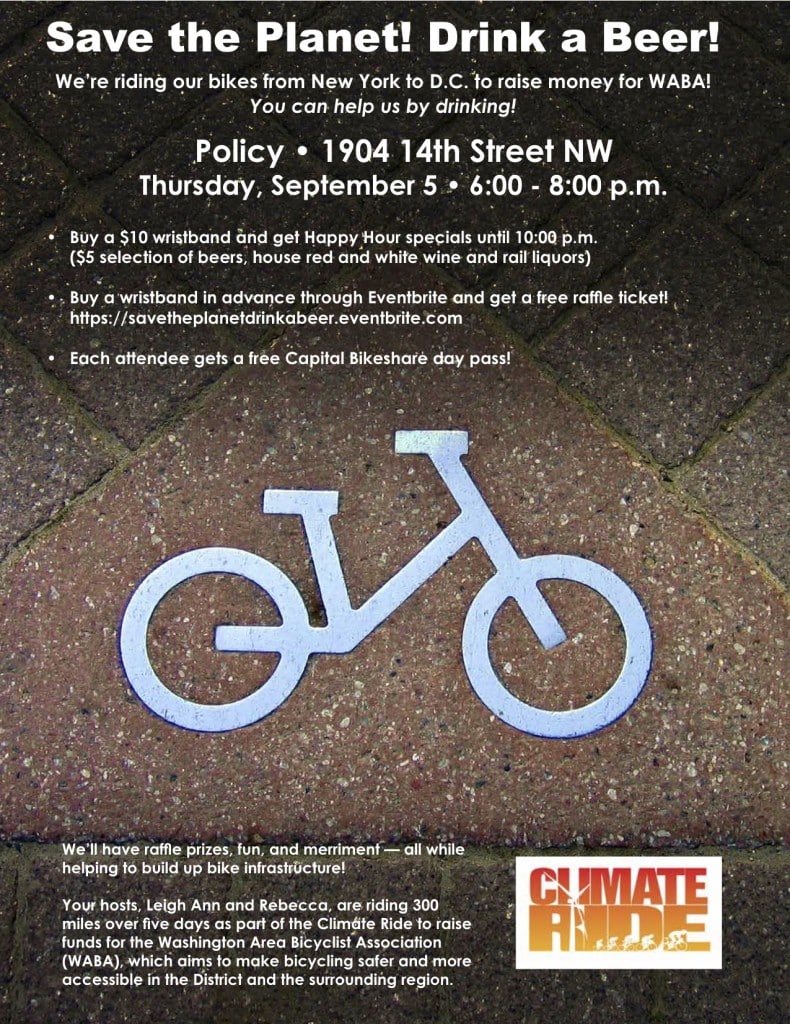 This post is written by Rebecca Mills, a member of WABA's Climate Ride team.
Two Team WABA Climate Riders are joining forces to bring you an evening of fun, merriment, and prizes, all for the benefit of our favorite bike advocacy group!
For those of you who are unfamiliar, the Climate Ride is an annual event in which participants ride 300 miles over the course of five days, from New York City to Washington, D.C. Each rider designates a nonprofit environmental or bike advocacy organization to be the beneficiary of his or her fundraising. Our team is comprised of at least 27 people who have chosen to donate all of their proceeds from the ride to WABA.
We—Leigh Ann Evanston and I—still have a way to go before we reach our overall fundraising goal, which we think is a great excuse to throw a party, so that's exactly what we're doing.
Join us at Policy, 1904 14
th
 Street NW, on Thurs., Sept. 5 from 6 to 1- p.m. 
Purchase a $10 wristband in advance through Eventbrite
 and get happy hour drink specials 'til 10 p.m., plus a free raffle ticket. We're going to raffle off a lot of stellar prizes from local businesses, including theater subscriptions, restaurant gift cards, bicycle accessories, yoga passes, two tickets to any upcoming show at the 9:30 Club, and lots more. As an added bonus, everyone who attends will get a free Capital Bikeshare day pass! Our goals for this event are to raise $1,000 for WABA and give our attendees some great items to take home. Come and be a part of it! Our growing list of raffle items includes:
Noms: Gifts cards to Whisked, GBD, Big Bear Cafe, Boundary Stone, the Tabard Inn, Sweetgreen, and Drafting Table; a 2 lb. bag of coffee from Sidamo; a care package from DC Brau; a one-week farmshare from Claggett Farm
Arts: Two season passes to Molotov Theater, tickets to an upcoming show at Studio Theater, and two tickets to any upcoming show at the 9:30 Club
Bikes: A care package of bicycle accessories from BicycleSpace, and a certificate for a Confident City Cycling class presented by WABA, a vintage Climate Ride jersey
If you're unable to attend but still want to support WABA and its Climate Ride team, you can donate directly to party organizers 
Leigh Ann
 and 
Rebecca
.