Resources: Basic Bike Commuting Gear
This blog post is part of a new series by our bike ambassadors. It's dedicated to presenting tips that will encourage new riders to get started. We'll link these posts on our Resources page, forming a library of tips for beginning cyclists.
Commuting by bicycle isn't complicated. You don't need much to get started. Once you
have a bike that fits you
and is
in working condition
, you're almost all set to ride. These basics will ensure that you're safe, lawful, and comfortable.
A helmet:
 While a helmet is not required by law in D.C. for riders over the age of 16, there's nothing wrong with protecting your head.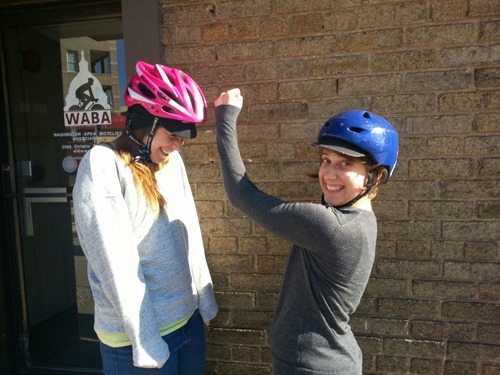 U-lock: 
Unless you are just taking your bicycle out for a spin, you're going to want to be able to leave your bike outside your destination (i.e. Metro station, restaurant, workplace, etc.) and rest assured it will be waiting for you when you're ready to head home. Purchasing and properly using the best lock you can afford will provide a sense of security when you don't have your eyes on your bike.
Lights: 
Requirements for lights vary by jurisdiction, but regardless, it's important to keep yourself visible on the road. Make sure to use a white headlight (front light) and a red taillight (rear light) when it's dark, foggy, or in wet weather. There are several types of bike lights, and the one that suits your needs depends on your ride. Riding a dark trail at night? You'll want the brightest one you can find to help illuminate the path in front of you. Riding down a heavily light cycle track? Maybe you can get by with smaller blinky lights. Even if you don't think you'll ever ride at night, you never know when you may leave work later than you planned, get caught in the rain, or decide you need to take your bike out after dark.
Some bicycle commuters often find that it's nice to have a few extras beyond what's absolutely necessary. These nice-to-have items include:
Bell: Bells are not only for your safety, but for the safety of other bicyclists and pedestrians out on the road. A bell can communicate to others that you're passing, warn jaywalkers that you are approaching, or grab the attention of a passenger hopping out of a cab before they door you.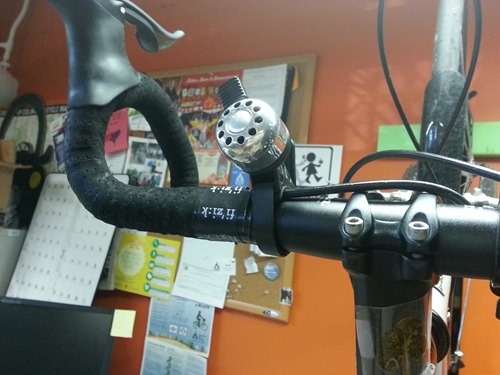 Fenders:
 Avoid loking like a skunk after your rainy day rides by adding fenders to your bike. A wet and puddle-filled ride becomes more enjoyable when you're not working about getting your clothes filthy on the way.
Gloves: 
Plenty of riders use cushioned gloves on their everyday commute throughout the year. Protecting your hands from the cold, wet, and wind is crucial during the winter months since most braking and shifting control comes from your hands and fingers. For most short commutes, your usual winter gloves will suffice.