CCT Closed from Fletcher's to Water Street due to Combined Sewer Spill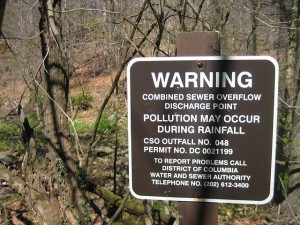 Unfortunately, as many commuters have discovered, the rainfall this week led to combined sewage spill near the Potomac that has closed the Capital Crescent Trail (CCT) from Fletcher's Cove to Water Street. From C&O Canal Historic Park (NPS) Superintendent Kevin Brandt:
As you probably know this week's storms created a huge sewage spill along the CCT.  As the areas largest organization that uses the trail I thought it might be helpful for you to hear directly from the NPS…. As we get more information from DCWater we will share it.  We apologize  for this situation and hope that DCWater mobilizes quickly to begin the cleanup and make the area safe for visitor use.

The break caused an estimated 5 million gallons of Combined Sewage Outflow (combined storm water and raw sewage) to flow over land, across the CCT, and into the Potomac River.
We are still working to understand the scope of impacts and damages to park resources and facilities
The CCT from Fletchers Cove to Water Street in Georgetown is closed for the foreseeable future while repairs and clean-up are underway
Respect the closures as they are in place for public health and safety reasons
CCT users are being detoured onto the Canal towpath

The NPS is working closely with DDOE, DOH and DC Water to be able to open this popular 

bicycle trail and 

crucial 

and commuter route as soon as it is safe to do so

We expect to receive a clean-up plan from DC Water Friday or Saturday
The NPS discourages public fishing and river use in the Potomac River south of and including Fletcher's Cove at least until Monday May 5th at noon.  The NPS further recommends that users who may have contacted contaminated surfaces or the river sanitize equipment, clothing and skin.
Untreated sewage may contain many pathogens causing a variety of illnesses ranging from e-coli to hepatitis. If people come into contact with the untreated flow they risk getting sick and bringing these pathogens into their homes.

Thanks, Kevin Brandt Superintendent

Chesapeake & Ohio Canal National Historical Park
A Quick Primer for Those Who Don't Generally Pay Attention to Water Infrastructure
A combined sewer line is a pipe that carries a combination of sewage from buildings and stormwater runoff from catchbasins to water treatment facilities. When rain falls in a sufficient amount that the pipes can't handle the volume, those pipes are designed to overflow a mixture of sewage and stormwater into our water bodies, such as the Potomac.  Mechanically, this overflow from the pipes happens when an inflatable dam that holds back the water is deflated to release the water and pressure.  In this case, it appears that the inflatable dam did not deflate, so the mixture was forced to exit elsewhere and it did so through various other openings near the CCT. DC water has provided physical barricades, signage, and contractors indicating the trail's closure and has a team working to clean the trail and nearby vegetation. Please respect the closure so that the cleanup team can get this work done as quickly as possible, as a spill of this sort raises human and environmental health concerns that must be addressed before the trail can be reopened.