Why NOT to register for Bike To Work Day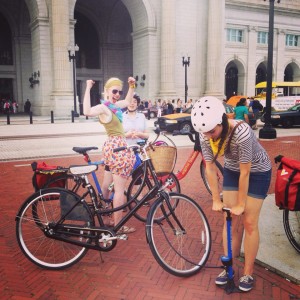 1.  I ride my bike to work every day anyway.  It's just like any other day.
2.  I definitely do NOT need another t-shirt, water bottle, other free goodies OR the possibility of winning a bike.
3.  I am sure the Transportation Departments already know how many people are commuting to work via bikes these days.
4.  I'd much rather ride by myself and go to work the same way I always do.  I know everybody who rides my route.
Okay, yeah, you got us.  We put the wrong list up.  Take all of those things above and switch them to the opposite.
WE WANT YOU TO REGISTER FOR BIKE TO WORK DAY!
In all seriousness, we do need you to
register
. Even if you ride every day, even if you don't want that special BTWD 2014 commemorative t-shirt. We need
numbers
.  We need to show the
growth
every year. At some point, maybe we won't be able to have Bike To Work Day because it will have become so huge that even
79 Pit Stops
can't hold us.  Bike To Work day will be
everyday
. Biking to work will be such an easy, convenient and safe occurrence that no one will even remember that we ever celebrated Bike To Work Day.  But until we get to that point, we really need your help. So
register
for Bike To Work Day and help us show strong numbers that convince area
decision makers
that we need safe
trails,
and
lanes
and other infrastructure in order for us to continue growing bicycling in the DC area.