Introducing Alex Khachaturian – Slate Properties, a WABA Business Member
We've recently introduced you to our business membership program. We debuted the program in 2012 and are steadily signing up new business members in 2014. As part of the program, we'd like to introduce you to some of our business members. Today, meet Alex Khachaturian. 
Alex Khachaturian
is a real estate broker with Slate Properties – a full service real estate brokerage, property management, and development firm in the District.  Having grown up working in real estate, as part of his family's business, Alex has a wealth of experience in residential rentals, sales, and development. What further distinguishes Alex is his background as an attorney at a major law firm and at a U.S. financial regulator.  You can also follow his listings on
Twitter
.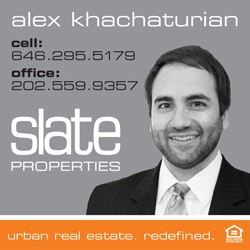 An avid cyclist, Alex regularly commutes by bike and offers "alternative" showing opportunities by bike.  He has competed in various cycling events in the DMV area, highlighted by the Leukemia & Lymphoma Society's 100-mile fundraising ride. He was introduced to WABA because he was impressed with our involvement in adding and improving bike lanes throughout various parts of the city – including the lanes on M Street leading to Georgetown. Alex was also a volunteer, sponsor and valuable fundraiser for the Columbia Heights Pit Stop at this year's Bike To Work Day event.  He is committed to further improving bike transportation around the District. We are happy to count
Alex
as a business member! Do you own, work for, or patronize a business that is a good candidate for our 
business membership
? For just $300 or $800 per year, you can show your support for a bike-friendly region and WABA's advocacy and get all sorts of perks, including your very own blog post! 
Details here
.