Introducing BicycleSPACE, a WABA Business Member
We've recently introduced you to our business membership program. We debuted the program in 2012 and are steadily signing up new business members in 2014. As part of the program, we'd like to introduce you to some of our business members. Today, meet BicycleSPACE. 
BicycleSPACE is a full service bicycle shop located near the Convention Center at 1019 7th St. NW. BicycleSPACE opened in 2010 with a a goal of fostering bicycle culture in the region. They focus on partnering with local organizations in their rides, classes, and clinics including maintenance and yoga classes. BicycleSPACE was named the Best Bike Shop in The City Paper's 2012 Best of DC Series and  was named a Top 100 retailer nation-wide. BicycleSPACE prioritizes urban biking and stocks their shop with bikes and gear for getting around the city. They strive to make all levels of cyclists feel welcome!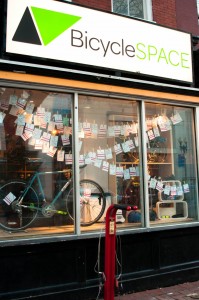 They have donated bicycles to WABA, led group rides to WABA events, and encouraged our advocacy efforts across the region – we are happy to count
BicycleSPACE
as a WABA Business Member. Do you own, work for, or patronize a business that is a good candidate for our 
business membership
? For just $300 or $800 per year, you can show your support for a bike-friendly region and WABA's advocacy and get all sorts of perks, including your very own blog post! 
Details here
.