Trail Ranger Tuesday: Introductions
Since mid May, our Trail Ranger team has been crisscrossing the District's multi-use trails, lending a helping hand patching flats, sweeping up glass and worrisome debris, and reporting important trail concerns to the people who can fix them.  Through twice daily patrols, 
recent
and
future cleanups
, and conversations over coffee, we've made a lot of new friends.  If you have not yet seen the team out, read on and consider yourself introduced.
Gabe Barouh: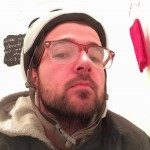 I'm Gabe from Takoma Park, Maryland. I've been riding my bike my whole life but didn't start riding for transportation until I was in college. I went to the University of Maryland and one of my roommates helped me fix up an old Peugeot as well as showed me his tall bike. I love riding for the feelings of self reliance and exercise. I'm looking forward to learning about DC's growing bike systems and meeting wonderful people along the way. I think my favorite trail in DC is the Marvin Gaye trail for its mixture of urban and natural terrain. I have already seen turtles and herons as well as have met some really nice people. Can't wait for this tan.
Adrian Rice: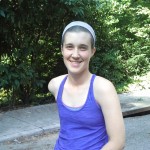 My name is Adrian, and although I have been riding bikes for fun since I was a kid, I started riding a lot when I went to college. I didn't want to pay for gas and riding my bike was an easy and cheap way to get around and stay in shape at the same time! My favorite trail in DC is the Anacostia River Walk Trail—I love biking next to the water with the sun and the breezes! I am looking forward to meeting lots of new riders on the trails and putting my tube patching skills to the test, bring it on!
Christina Hernandez: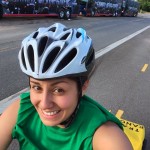 I've been biking ever since I was a little girl. Just the typical childhood play-style biking: riding up and down the street, racing the neighborhood kids, and coming up with games until the sun went down and we were all called in to wash up. That nostalgia of community is what drew towards being a Trail Ranger and what I hope to achieve this summer. I want to provide trail users—commuters and leisurely riders, alike—a sense of community as they ride to their destinations by being a friendly, helpful, welcoming rider alongside them. My favorite trail in DC is the Anacostia Riverwalk Trail. Not only does the trail  provide amazing views of the river and the surrounding neighborhoods, but I think it's also one of DC's best kept secrets, especially thanks to all of the amenities just off the trail.  (I mean, who wouldn't want to ride their bike over a few bridges with breathtaking views only to end up at a grooving skating rink or community pool?) Not to mention, the Anacostia Riverwalk Trail is right near my home, so I consider it an integral part of my neighborhood and community. Next week, we'll introduce the rest of the gang.  If you come across them on trail, be sure to say hello!  And don't forget about our next cleanup on Saturday, June 28 on the Anacostia Riverwalk Trail.
Click here
for more info and to sign up.