Streetcar Tracks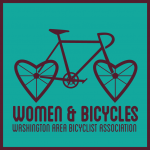 This is part of our Women & Bicycles blog series, part of WABA's initiative to build a stronger women's bike community and get more women on bikes. These posts aren't exclusive to women, but they're produced with
and through the Women & Bicycles' programming. Click here to learn more and get involved.
Even though Streetcar won't be up and running until 2015 (
at the earliest
), people who bike along the H Street corridor interact with the system on a regular basis. These interactions are not always friendly. Since the installation of tracks along the H Street corridor, WABA has received many reports of bike crashes involving the tracks. Here are the three most important tips for avoiding hazardous encounters with streetcar tracks: 1. Never ride between the tracks. 2. Always cross at a 90 degree angle. 3. Use alternative routes. Contraflow bike lanes on G St. and I St. NE offer safe alternatives for bicyclists going east and westbound.