Are You A Bike Ninja?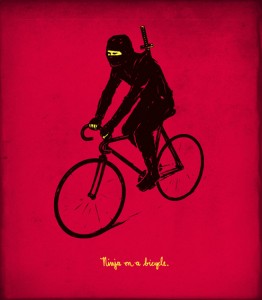 Bike Nin·ja noun \ˈbīk\ˈnin-jə, -(ˌ)jä\
Definition of Bike Ninja
: Bicyclists who ride unlit at night, or under low visibility conditions. They can go undetected by other bicyclists and motorists…like a ninja. This practice puts many people at risk, and should be avoided whenever possible. On Wednesday, July 9th, Bike Ambassadors are riding to the NoMa Summer Screen viewing of
The Muppets
to hand out surprise goodies to people who biked. This is a great opportunity to meet REAL LIFE Bike Ambassadors. We're the folks out on the streets promoting respectful everyday biking, and we 
thank other road users who share the road with us
. Talk to us, find out what we're all about, and consider becoming a Bike Ambassador yourself. Join us for a Bike Ambassador Orientation on July 15, at 6 pm at the WABA office. To find out more or sign up, click 
here
.