More Trail Events Coming Up
With hard work on the Met Branch and Anacostia Riverwalk Trails behind us, the Trail Ranger team is getting in gear for our lesser known trails east of the Anacostia.  With the Riverwalk Trail as a backbone of the network, the Suitland Parkway Trail and Marvin Gaye Trail serve as feeder lines from the Maryland line.  Come ride the trails with us and lend a hand keeping them in shape.
Suitland Parkway Trail Cleanup & Ride
Saturday, July 12, 10 am – 1 pm Join us Rangers for a personal introduction and cleanup on one of DC's least known bike trails. Through a little hard work, you'll get a ground level perspective of where the trail goes, its challenges, and the future improvements we are advocating for.
Learn more and Sign Up
Marvin Gaye Trail Cleanup & Ride
Sunday, July 27, 11 am – 2 pm Roll up your sleeves and join the team in a community cleanup and ride on the Marvin Gaye Trail. Running the length of Marvin Gaye Park, the trail follows the Watts Branch creek for nearly 2 miles as it winds through quiet, green neighborhood streets from Minnesota Ave. to the Maryland line. Come discover how to get there, help us keep it looking fresh, and discover why you might want to come back.
Learn more and Sign Up
Riverwalk Trail Gets Some Attention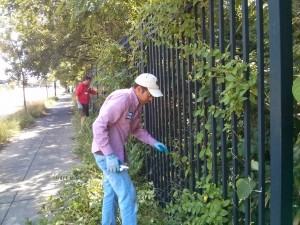 Last Saturday morning, our Trail Ranger team and some eager volunteers gathered in River Terrace park on the east bank of the Anacostia River to give the trail some much needed help.. In just under two hours, our crew greatly improved the Benning Road bridge crossing, trimming back overgrown vegetation, clearing sight lines, and removing glass. As the northernmost river crossing on the Riverwalk, the Benning Road bridge is often abuzz with bike and foot traffic. Thanks to our efforts, this crossing is a bit roomier, making for a more enjoyable ride. With the hard work done, the group enjoyed a relaxed spin around the trail, highlighting some of the trail connections, nearby attractions, and the 4.5 mile Kenilworth Aquatic Gardens trail extension,
now under construction
. Every week, we're highlighting the work of WABA's Trail Ranger program, an effort to increase use and upkeep of multi-use trails in the District. Check back for big trail updates, achievements, and ways to get involved with our cleanups and events. 
Click here
 for more about our Trail Ranger program.