Safety in numbers? Better believe it. Bike Ambassadors visit the 14th Street Bridge.
The @WABADC #bikeambassador is at the end of the 14th Street thanking people for riding. Stop by and say hi! pic.twitter.com/Rsb0gztF9D — Pete Beers (@I_am_Dirt) July 21, 2014
If you've read this recent 
journal article
 (PDF) on accident analysis and prevention, you're already aware that intersections that see more than 200 bicyclists a day have a substantially lower collision rate per cyclist than intersections that are not as busy. DC Bike Ambassadors wanted to see this for ourselves so we went down to the DC side of the 14th Street Bridge, a busy spot during commuting hours. Lo and behold, about 125 bicyclist passed us in the 30 minutes we were counting. Although we didn't technically see 200 bicyclists, we're fairly confident at least 75 more bicyclists rode past after we left. While we were there, we saw cars slowing down for bicyclists attempting to cross the street, cars yielding to pedestrians and bikes way ahead of time, and even motorists looking over their shoulder for bikes before merging.  It was fantastic. It was glorious. The Bike Ambassadors set out this morning intending to cheer on bicyclists who were riding safely through a pretty busy intersection, but by the end of our pop up outreach, we were celebrating everyone who was being courteous on the road.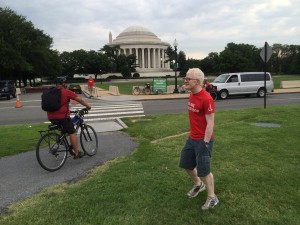 Tip of the day: Don't forget your helmet at home! Even when using Capital Bikeshare. Click here to find out more about proper bike helmet fitting.