Bike organization to watch: iCan Bike
In July I ventured to Arlington to see the
iCan Bike
camp, a program of iCan Shine, Inc., designed to teach students with disabilities a skill that Executive Director Lisa Ruby believes they'll use for life: how to ride a two-wheeled bike. In a gym, among volunteers running along students as they pedaled, Ruby told me a bit about the program. Ruby's team works with a total of 3,000 students with disabilities nationally. Camp participants are aged eight and up, and although 42 percent of them are on the autism spectrum and 26 percent have downs syndrome, the rest come with a wide range of disabilities.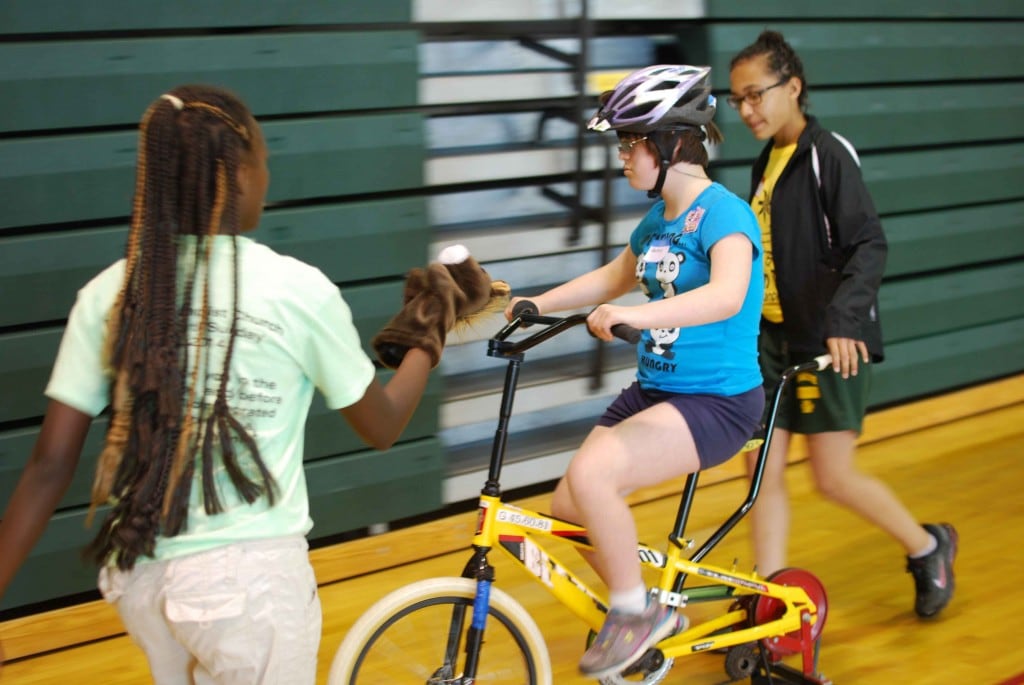 The camp uses adaptive bikes developed by University of Illinois mechanical engineer
Richard Klein
, who designed a set of rollers that attach to adapted bikes, facilitating balance while students gain confidence with pedaling and steering. As students progress, volunteers and site facilitators switch out the rollers for narrower and narrower versions, until the students are balancing on a roller the same width of a bike tire. Though iCan Shine's bike camps are finished for the summer, volunteers are needed for next spring and summer's programs. Want to get involved? Email Lisa Ruby at lisa@icanshine.org. Ruby answered a few of my questions, below.
WABA: What happens after the students start balancing on two wheels in the gym?
Lisa Ruby: At that point we like to transition them to [biking outside], because there are more distractions and things going on — cars and wind blowing and birds singing and all of that stuff, and that's where they're going to be, so making that transition in a safe way is important. WABA:
Can you talk about what the kids who go through this program get out of it?
LR: For this population that we serve, if they're not riding a bike, then their family is usually not riding a bike, because they can't all go together. Somebody has to stay home, so [our program] really gets everybody active. Especially for a child with a disability who has younger siblings who are riding bikes and they're not, it blows their self-esteem. It's just crushing. So when [our kids] learn to ride a bike and they can be just like everybody else, it changes everything for them. It's not just, "I can ride a bike now." It's, "I can do anything I want to do." It makes them so self-confident. You know how it feels to ride a bike. It's awesome – it's just like, "I'm free, and I'm doing this. It's me and only me." And that's awesome for someone with a disability. WABA:
There's no maximum age limit on the program, right? What brings the older students to class?
LR: A lot of our teens and young adults come because they want independent transportation. They can't get a driver's license, but they want wheels, right? They have a job; they want to be able to get there and go see their friends and get around, and that's important. Also, a lot of our parents recognize when their children are young that they won't be able to drive a car. So they know the value of learning to ride a bike early. WABA:
How did you get into this field?
LR: Very interesting. I spent years in corporate America, and I owned a business in Seattle for six years, and it allowed me to take some time off and volunteer. I was volunteering at a transitional school for homeless children, and I had this epiphany that I needed to be working for and with children and no one should be excluded. I thought that meant United Nations, or Save the Children, and all those types of organizations were in Boston, New York City, or Washington, DC. I decided DC was going to be it for whatever reason, and my first week here I went to a neighborhood recreation center  looking for a place to work out. There was a big sign that said if you volunteer for adaptive aquatics you get to use the facility for free. So I did, and I was assigned a three year old boy with autism who had so many sensory issues he couldn't even focus on me.  After working with him I was hooked — I did swimming, I did adaptive gymnastics, I worked for Fairfax County Parks and Rec for a while, and then I found this.
WABA: Why was starting a bike program more appealing than focusing on other sports?
LR: I had never seen anything, any sort of program where in less than six and a half hours somebody can learn a lifetime skill. Never even imagined something like this existed. So I quit my job and we started a non-profit and built the infrastructure, and now I have 28 staff in the summer and 82 camps, and we're all across North America.
WABA: If I want to help out at iCan Shine, what can I do? 
LR: This is a good volunteering opportunity. We do have local camps for next summer — four in Maryland and three in Virginia DC area, and a spring break camp as well.  I think awareness is huge, just to let people know about it and get involved and help out.