Calling All Treasure Hunters!
Do you have an affinity for nautical themes, bicycles, and vague maps of geographical forms? Do you like exploration, friendly competition and prizes? If so, grab a friend, a bicycle and strap on your skull and crossbones helmet for the first ever Anacostia River Treasure Hunt!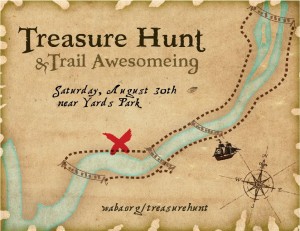 Register Now
At 10: am on Saturday, August 30th, set sail for the shores of the Anacostia River at Diamond Teague Park for a spirited hunt for all the treasures our city's other great river has to offer. in days of olde, treasure hunters crossed the seas and beat back jungles in search of precious metals and plunder. Today, we'll compete for points, earned by following clues, discovering lesser known attractions, and clearing some jungles too! Armed with a treasure map, a sense of adventure and a Twitter handle, your team will take on the competition for points, prizes, and glory.
Hunt Details
Each team will receive a treasure map and a broad list of clues to "Trail Treasures" and challenges scattered up and down the Anacostia Riverwalk Trail. Since the mark of a true privateer is the right balance of braggery, skill, and wit, teams will collect points by tweeting and instagramming photos featuring their team's  hunting talents.  With limited time, will your team seek out the large payoffs of tricky and distant treasures or aim for the easy return on simpler clues? Good treasure hunters always have a keen mind for strategy! Teams that collect the most points or show great creativity will be showered with prizes and glory. The rest will walk away with an album full of reasons to come back for more adventure by bike, kayak, roller skate, or picnic blanket. Registration is free and open to all. Teams including bike savvy kids are welcome too! We'll have a shorter, kid friendly map and clue sheet so aspiring treasure hunters can join in the fun.
Treasures Worth Hunting
While the Anacostia has never been a place for precious metals, it is littered with treasures of another kind! These are the sweeping views, riverside hideaways, feats of engineering and pieces of history that make the Anacostia impressive. They are those uplifting scenes of a river alive with wildlife and abuzz with people. They are boathouses, roller rinks and aquariums right in DC's back yard!  We hope you'll join us!