Introducing Postmates, a WABA Business Leader Member
WABA's Business Members understand the importance of a community that bicycles. Their membership supports our advocacy, outreach and education. Our business members are committed to a sustainable future of our region and are adding their voice to a growing number of bicycle-friendly businesses supporting WABA. Today, meet Postmates. 
Postmates is a delivery and courier service originally founded in San Francisco. Postmates launched in D.C. at the end of 2013. Postmates employees primarily deliver by bicycle. The service delivers from almost any business in the city and will even grab something at your apartment building. Postmates is currently in 15 cities across the U.S. Postmates DC was excited to show support for WABA and support local bicycle advocacy. We are proud to call Postmates a WABA Business Leader Member!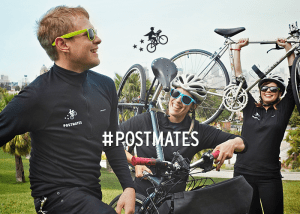 Do you own, work for, or patronize a business that is a good candidate for our 
business membership
? For just $300 or $800 per year, you can show your support for a bike-friendly region and WABA's advocacy and get all sorts of perks, including your very own blog post! 
Details here
.