Support Biking in Tysons on Monday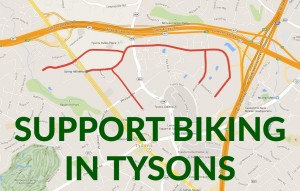 Fairfax County recently announced that several major roads in Tysons could soon have bike infrastructure as part of the county's summer repaving schedule. We need you to speak up for biking at a public meeting on 
Monday, March 16 at Westbriar Elementary School from 7-9 p.m.
Here is the proposed new bike infrastructure:
Greensboro Dr. – Road diet from Spring Hill Rd. to Solutions Dr.
Tyco Rd. – Road diet from Route 7 to Spring Hill Rd.
Westbranch Dr, – Road diet from Westpark Dr. to Jones Branch Dr.
Jones Branch Dr. – Climbing lane from International Dr. to Westpark Dr.
Spring Hill Rd. – Combination of bike lanes/sharrows from Route 7 to International Dr.
Westwood Center Dr. – Sharrows from Route 7 to the end of the road
A full map of proposed bike projects is
online here
.
Meeting Details
Monday, March 16 at 7-9 p.m. Westbriar Elementary School 1741 Pine Valley Dr., Vienna, VA 22182
Google Map directions
Since these projects are part of the repaving schedule, no additional funds are available to supplement the projects. They may not be perfect, but it's important that we support this effort by the county. If you work or bike in Tysons, please consider attending this meeting to support these important projects. Check the 
Fairfax Bike Pages
 or the 
FABB blog
 for more info.