Who should be next in our Tiny Space Lecture Series?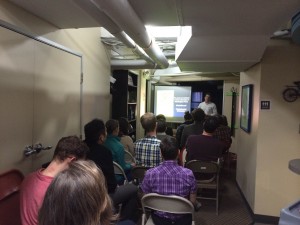 Recently, we welcomed Professor James Longhurst from the University of Wisconsin, LaCrosse to our offices for a special member lecture. He's the author of
Bike Battles: A History of Sharing the American Road
and he shared with us a chapter from his new book on the fate of Victory Bikes during World War II, which happened right here in Washington DC. Space was tight, but cozy, for our inaugural "tiny space" lecture series. We all enjoyed his talk, complete with videos and never before seen photos that he was able to dig up from various archives. Professor Longhurst discussed the history of bicycles and how they have shaped American society. Unfortunately, just as they are often dismissed as a legitimate transportation mode, they are also not taken seriously as a research topic and therefore are almost completely left out of the social science canon. However, bicycles are clearly an important part of our country's history. The history of bicycling in this country intersects, of course, with the history of automobile use at several critical points.  And decisions that were made decades ago in favor of cars, still resonate and hinder how we move about on bicycles today. During World War II there was a brief moment where, with automobile production expected to be restricted to war vehicles only, and gasoline rationed, the US war office recommended the mass government production of what they nicknamed "Victory Bikes." A heavy public relations campaign was envisioned, pitching daily bicycling as a patriotic duty. Unfortunat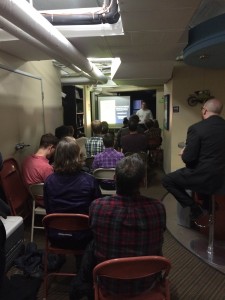 ely, another US war department intervened and instead, car production was saved, albeit restricted, and US production of bicycles plummeted. It was an early missed opportunity to establishing daily bicycling in this country as socially responsible, safe and sustainable, even in times of national crisis. James Longhurst's book will be published later in April, but it is
available now for pre-orders.
 The other chapters seemed just as interesting, including chapters on the Sidepath movement, bicycle taxation and more. The lecture was so successful that we are planning another. So tell us, who would you like to hear speak on the lost history of bicycles?