What we learned at the Family Biking Town Hall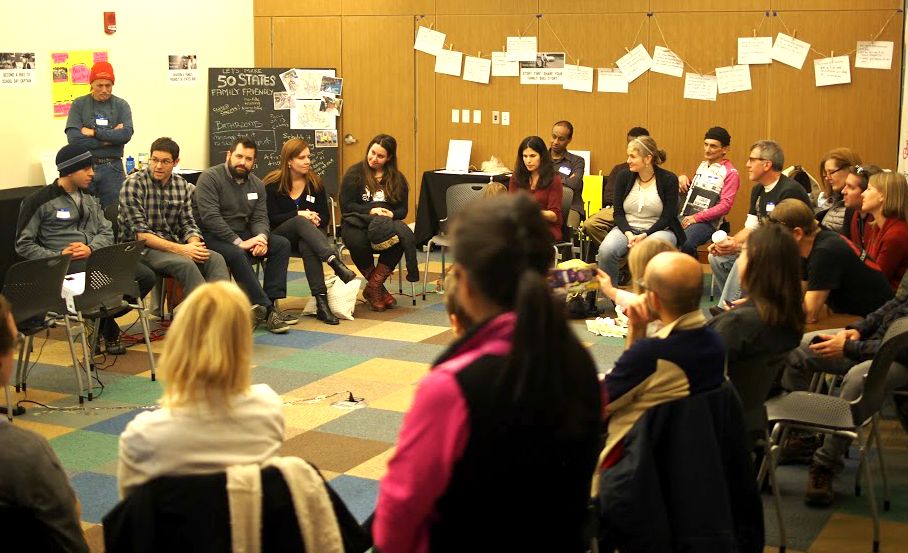 Back in December we took small steps toward something big. We hosted our first-ever Family Biking Town Hall where we met with parents, members of youth-serving organizations, WABA members, and community stakeholders. We talked about making our work serve youth and families better, and we learned a lot. The meeting resulted in the following recommendations to make our programming more inclusive. In all our programming, we'll cultivate more consciousness around scheduling at family-friendly times and choosing routes and event spaces that are appropriate for children.
In our outreach:
We're pleased to offer more Family Biking Workshops with Kidical Mass this spring. The first one is this Saturday, May 2, at 10:30 a.m. at the Watha T. Daniel/Shaw Neighborhood Library.
Click here
for more info. See you there? With additional funding, ideas for future programming include:
Creating a neighborhood family bike ambassador program
Family-friendly community nights
Roundtable discussions with youth and family biking groups around the region to share best practices and develop ideas
In education, we learned that our stakeholders are interested in:
Afterschool bike clubs for youth
Classes where parents can learn how to ride with and alongside their kids
More ABCs of Family Biking events throughout the region
Summer Bike Camp
We're happy to be implementing a number of those suggestions this spring. We're leading an afterschool Bike Club at Benning Park Recreation Center through the month of May, and we're partnering up with Gearin' Up Bicycles to hold our first-ever summer camp in July. We hope that the summer and fall will bring more opportunities to plan ABCs of Family Biking events and to schedule inclusive biking classes for youth and families.
In planning large-scale events, we learned:
We should work toward including shorter, family-friendly ride routes as part of our large ride events.
We should work on diversifying our ride themes — think Tour de Playground and Cargo Bike Race. Youth and family-friendly theme ideas, anyone?
Making events accessible to all makes the world go around! More snack breaks, family-friendly start times, teen rides, off-bike activities, and childcare at events.
In advocacy we're working on:
Teaching advocacy at schools and in afterschool programs
Creating traffic gardens and bike schools
Creating more bike parking at schools, libraries, and other institutions used by youth and families
With additional funding and resources, we learned that we should tackle:
Consistent wayfinding that highlights comfortable routes that are ideal for families
Trail advocacy that focuses on amenities for families
Holding advocacy meetings at local high schools
Including youth perspectives in testimony
Securing subsidized Capital Bikeshare memberships for high school students
And, we learned about all the existing Family Biking groups:
We owe a big thank you to all the folks who participated in our Town Hall in December, and to those who filled out our Family Biking Survey. Because of your dedication, we were able to open an important discussion. And don't forget, next Wednesday is Bike to School Day!
You can check here
to see if your school is participating. If they aren't you can still ride by yourself or with friends and neighbors. Join the conversation by coming out to our Family Biking Workshop with DCPL this Saturday. Or
sign up here
to join our Youth & Family Biking email list. You can always drop us a line at outreach@test.waba.org. There are so many ways to be involved, and we'd love to have you on board.