How to Prepare for Bike to Work Day
Bike to Work Day is in two days! But don't freak out, WABA is here to make sure you and your bicycle are ready for your commute to work. (
Procrastinator? There is still time – Sign up here!
) Whether it's your 500th time biking to work, your first time in years, or your very first time ever: WE ARE SO HAPPY THAT YOU CHOSE TO COMMUTE ON TWO WHEELS. Yes, you may get a little sweaty (that's what work place bathrooms and deodorant are for). Yes, you may have helmet hair all day (tell everyone you're going for the grunge chic look). And yes, you may just smile on the way to work (biking = happiness). Here's our top five tips to make your commute on Friday easy and enjoyable:
1.
Get your bicycle ready before Friday morning.
One of the worst feelings is going to roll out your trusty stead just to realize that the air in your tires is low or that your breaks are too lose. Go ahead and check over everything tonight or Thursday to make sure you and your bicycle are ready to roll on Friday. You can read about what to check for on your bicycle
here
.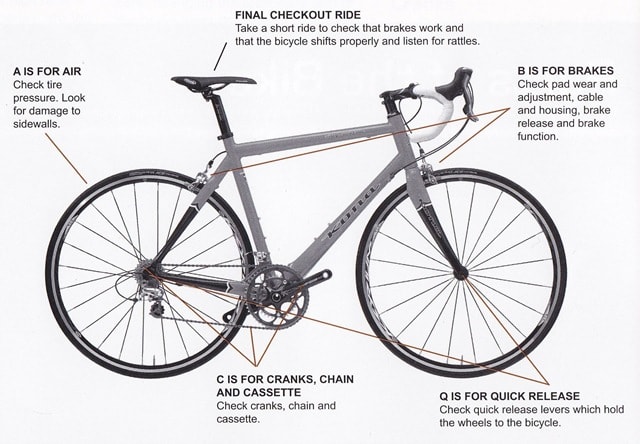 2. Dress for success.
Don't feel comfortable biking in your business casual clothes? That's totally fine. Dress for success
on the bike.
Wear shorts and a t-shirt and carry your work clothes (neatly folded) in a pannier if you have a rack or in a back pack, and then sneak into the office and change before going to your desk. Or if you work in a more casual setting, plan to wear light weight clothing and layers that you can peel off if you get a little toasty on the ride. How else do you think the "all powerful bike lobby" always looks so good?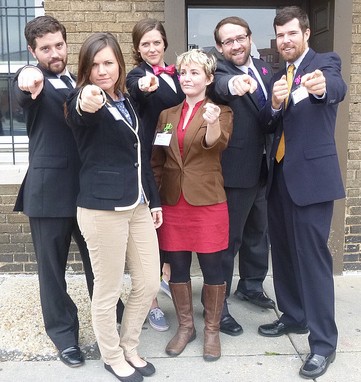 3. Plan your route.
Make sure you know the best way to bike to your pit stop and then from there to work. Google Maps has a handy "biking" tool, so you just put in your starting and ending point and then click the bicycle icon and they will give you suggested biking routes. Additionally, under "Getting Around" on the map, select the "Bicycling" function and the map will highlight in green where bike lanes and "suggested roads for bicycling" are located. One extra tip: if you're taking a route for the first time, write down the directions on piece of paper that you stick in your pocket or tape to your handlebars.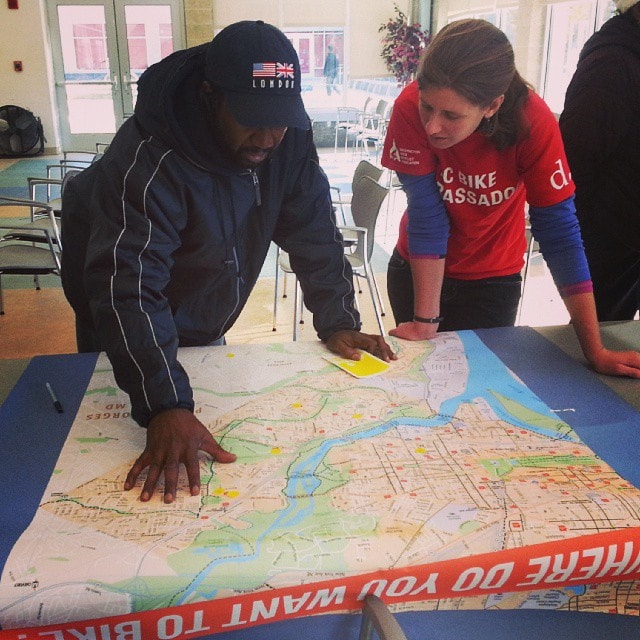 4. Find a bike buddy.
It's not too late to text your friend, knock on your neighbors door, or email a co-worker and invite them to bike with you. That way you have someone to help navigate or laugh with you when your pant leg gets caught in your chain – plus it will be an extra special day if you get a friend to bike with you who wouldn't have considered commuting on two-wheels if it wasn't for you. Are you the shy type or just the world's worst person in the morning? Sometimes a solo bike ride is just the thing to get you feeling alive and refreshed – and you'll get to wave or smile to bike buddies you pass by on the ride.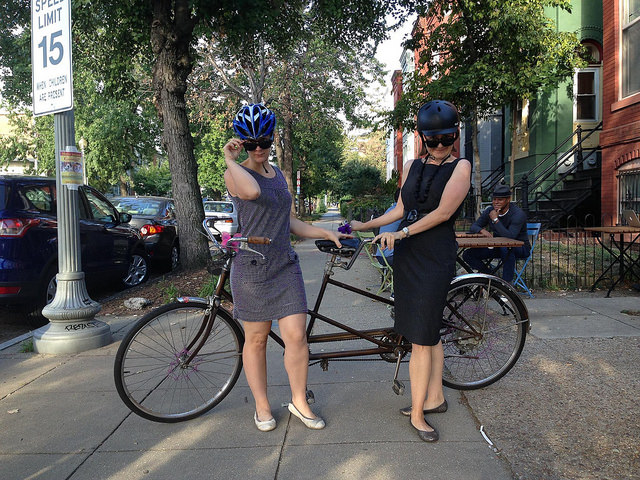 5. Enjoy the ride.
Biking should be all about enjoying your ride. Just think: it's less stressful that sitting in a traffic jam on the Beltway and the fresh air is much better for you than breathing in that that stale underground smell for two hours. So on Friday, take it slow, take it easy, smile when you pedal, follow traffic laws, bike safely and enjoy the ride.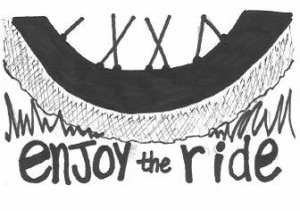 Haven't yet signed up for Bike to Work Day? It's not too late!
Sign up here
to be eligible for bike giveaways, raffle prizes and the free breakfast snacks at your pit stop.