I biked to work today, now what?
Thank you for participating in Bike to Work Day today. You – and thousands of other DC, Maryland, and Virginia residents – rode your bicycle, and that is something to be celebrated. You are probably wondering: what happens next?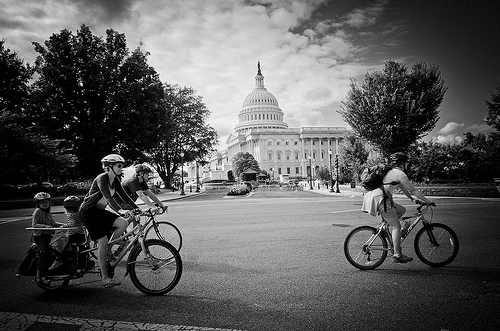 Here's some frequently asked questions we get after Bike to Work Day happens, and helpful answers for you:
Q: I'm a regular bike commuter, so do I just bike to work again Monday, like I do everyday, without all the fanfare and free stuff?
A: Yes. And if you happen to bike by the WABA office on your commute, you're more than welcome to stop in during business hours (9am-5pm) for a free double high five… Or just high five your co-workers.
Q: Since this was only the third time I've biked to work, I still feel like a newbie. should I try it again next week?
A: Yes! Keep going, you are doing great! If you are interested in learning some new skills try one of our
City Cycling Classes
or
Community Rides
!
Q: Should I go to this silly sounding bicycle festival I heard about on May 30th at Yards Park called Tour de … something?
A:
Yes!!!
Q: Should I go to the Tour de Fat even if I don't like beer?
A:
Definitely yes.
The festival is free to attend, and there will be a bunch of food trucks with food and non-alcoholic drinks. Plus, the event is family friendly and has a kids specific area.
Q: So when is this bicycle festival?
A: Saturday, May 30th at Yards Park, DC. The pre-festival bike ride that WABA leads leaves Yards Park at 11am and you don't want to miss that (so get there by 10:30am!). And the festival itself starts at 12pm and goes until 5pm.
More details here.
Q: I had so much fun on Bike to Work Day. I really enjoy biking and I wish there were more bike lanes! How can we get more bicycle infrastructure across the region? How can I help convince everyone to give bicycling a try?
A: The Washington Area Bicyclist Association works very hard every day to advocate for betting bicycling across the region and to make bicycling accessible, normal, fun and low-stress for everyone. You can support our advocacy and outreach work by joining the WABA community as a member.
Today, you can join for just $25 and help support our efforts to make bicycling better for you for the next year.