The Papal Visit might affect your bike ride
The Pope is visiting DC next week, and everyone's bracing for transportation chaos. Your bike ride may well be affected. DDOT has a set of maps at
pope.dc.gov
, but there's not much useful information for bicyclists. Pertinent points are:
Roads that are closed to cars are also closed to bicyclists. Note that this also means you won't be able to walk your bike through the restricted areas.
Bikeshare stations inside closed area will be inaccessible, but there will be Bikeshare corrals at major papal events.
Don't lock your bike to temporary security barriers.
Expect crowds of people on foot, including lots of folks from out of town, so be polite and cautious.
Here's a day-by-day breakdown:
Tuesday
Starting Tuesday and continuing through Thursday,
Masschussetts Ave NW around the Observatory
will be closed. DDOT's recommended detours to Wisconsin or Calvert & Cathedral are probably your best bet.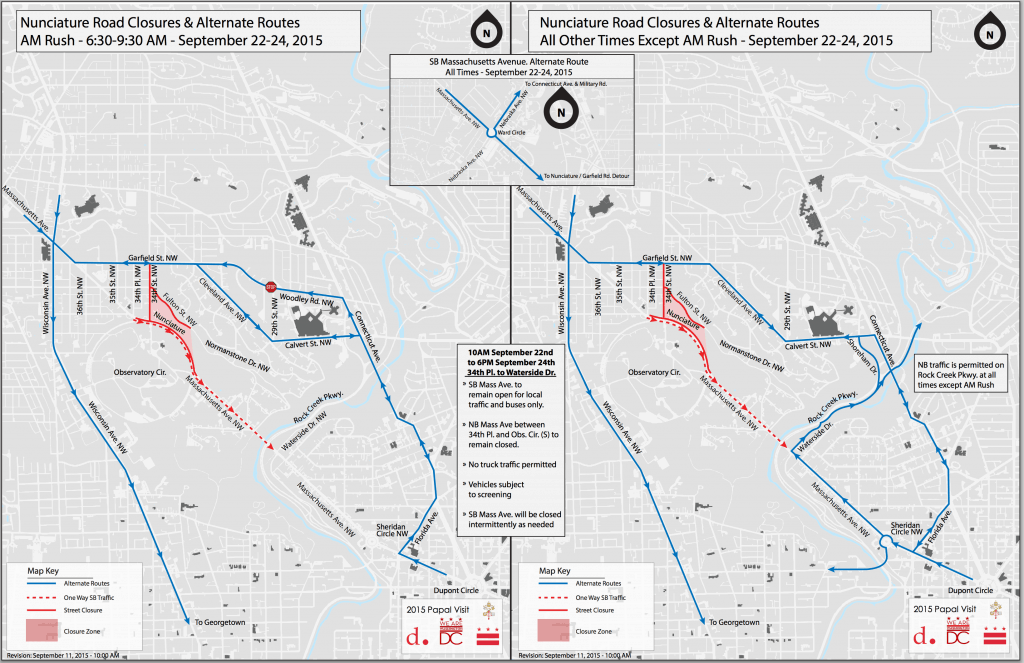 ---
Wednesday
Avoid the area around the
White House and Washington Monument
entirely if you can.
You will definitely not be able to connect from the 15th St NW protected bike lane to the Pennsylvania Ave lanes.
To get across town East-West, your best bet is probably the L & M St Protected Bike Lanes, though there may also be intermittent closures on M Street at 17th during the morning.
North-South, you'll be able to reach the Memorial Bridge from the West side of the Lincoln Memorial, although 23rd St is not a particularly bike friendly street.
Also North-South, the 14th St Bridge will be open, but the popular commuter route up 15th SW to Jefferson St SW will be closed. The lowest-stress detour is probably to take Maine Ave to the 4th St SW bike lanes.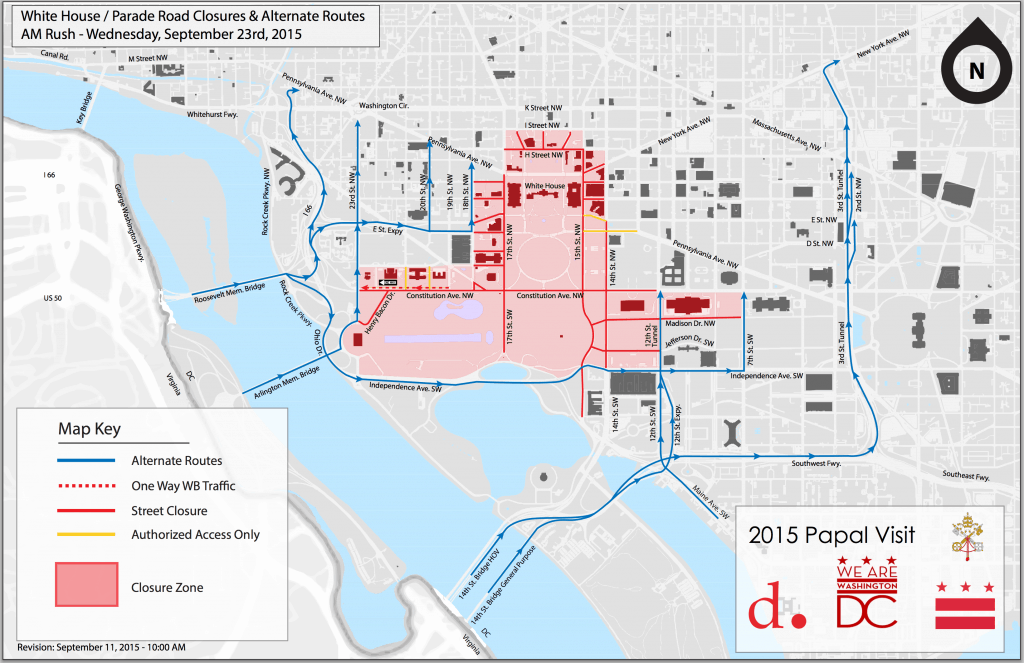 ---
Major connections will also be closed around
Catholic University
and in the
Brookland and Edgewood
neighborhoods.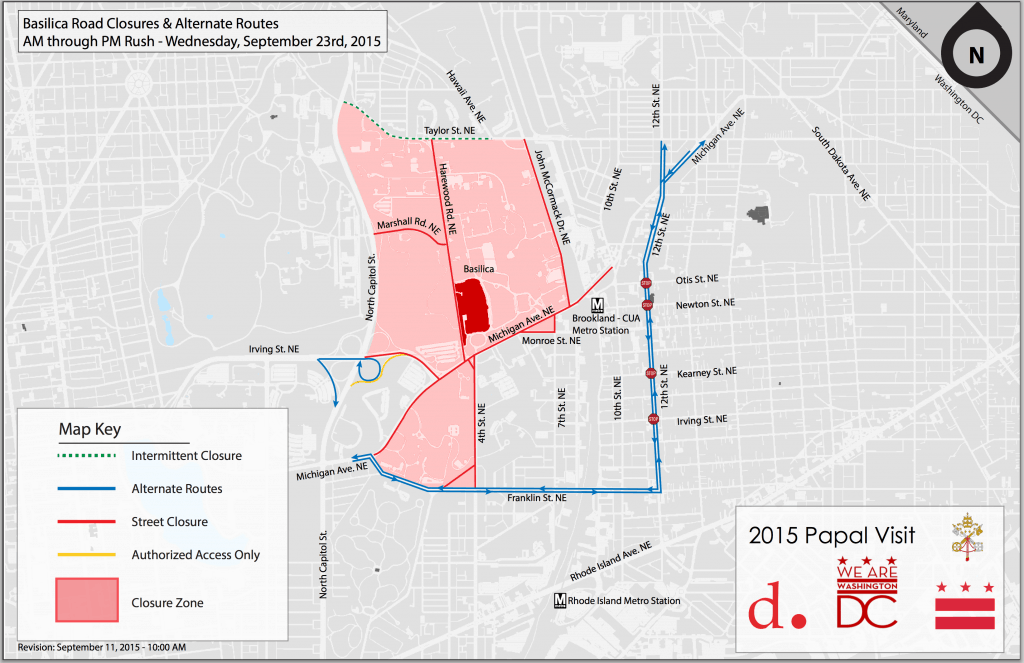 Most notably:
The section the Met Branch Trail along John McCormack drive from the Brookland Metro to the Taylor St Bridge will be closed. For through traffic on the trail, we recommend Taylor -> 10th St NE -> Franklin. Note that Franklin St will have extra car traffic as it is serving as the auto detour for Michigan Ave.
If you normally ride on Michigan and Irving to cross from Northeast into Northwest, your lowest stress detour option is to take the Met Branch trail south to R St and head west.
the 4th St bike lane from Franklin to Michigan will be inaccessible.
---
Thursday
The streets around the
Capitol Building
will be closed Thursday morning.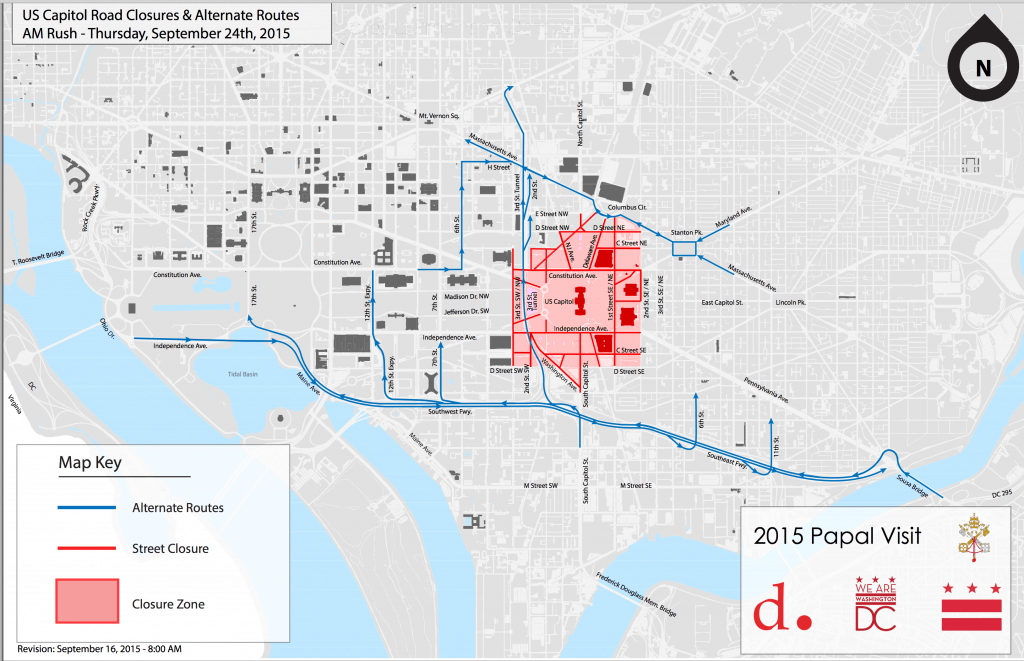 You will not be able to ride through the Capitol grounds to connect from Capitol Hill to the Pennsylvania Ave protected bike lanes.
Though Massachusetts Ave will be open, Columbus Circle around Union Station will probably be pretty chaotic.
The lowest stress connection from Capitol Hill to downtown will be the bike lanes on 4th & 6th NE and K St through NoMa and Mt Vernon Triangle.
There will also be closures on Thursday around the
National Portrait Gallery and St. Patrick's Church
.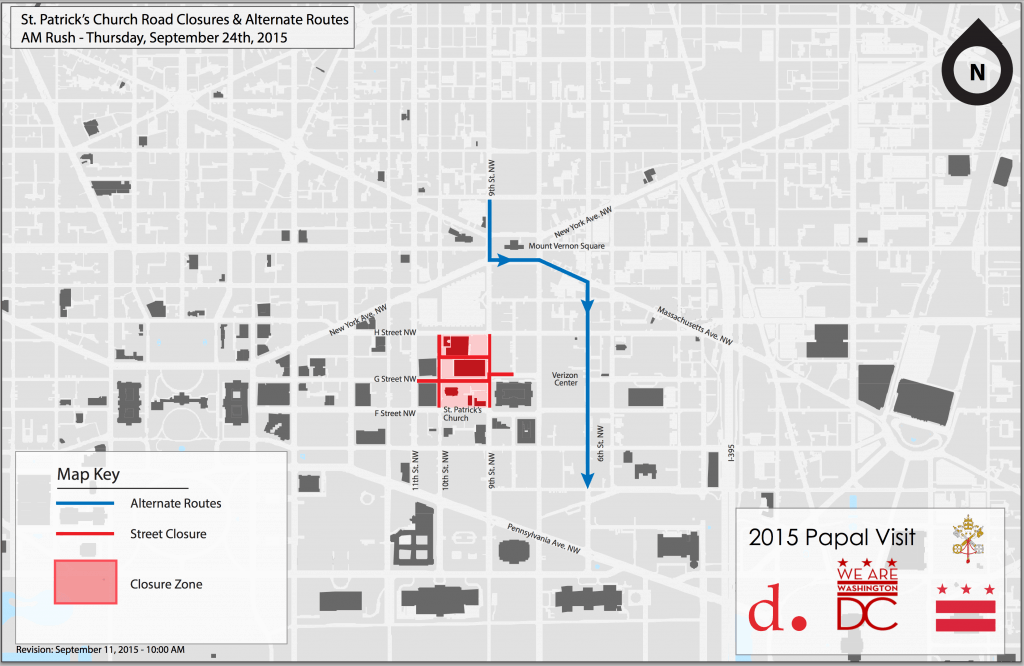 If you normally ride in the bike lanes on G St NW, your best detour is to use the bike lanes on E St NW instead.
If you normally ride in the 9th or 10th St NW bike lanes, your best detour is to use the bike lanes on 11th St NW.