Bike Friendly Ballston Campaign Launch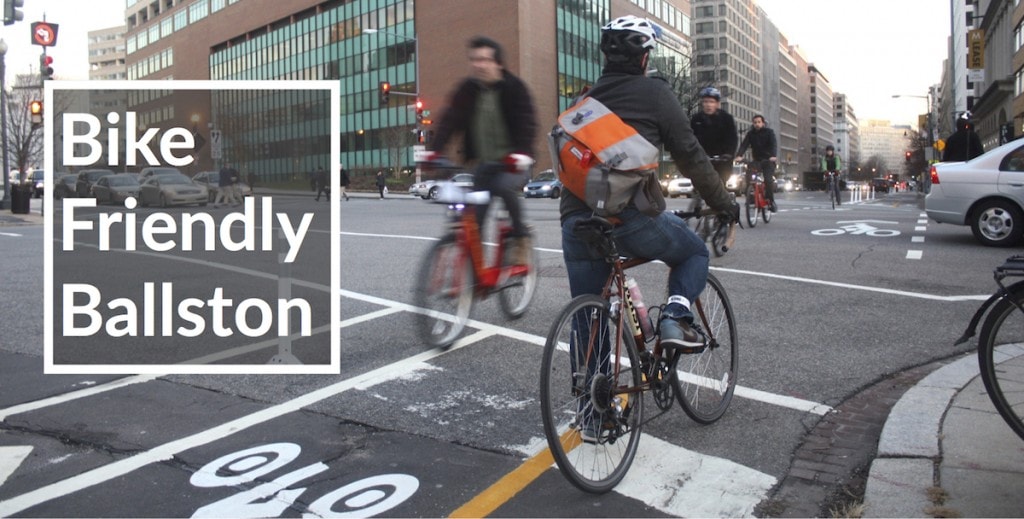 Thanks to an expansive trail network and forward-thinking investments made over the decades, Arlington County is a terrific place to ride a bike for fun, commuting, and just getting around. Trails like the Mount Vernon Trail and Custis Trail see thousands of bicycle trips per day through neighborhoods and the downtown core. Where those trails end, a growing network of quiet neighborhood streets and bike lanes take over to get people where they are going. At least, that is how it should work. Trouble is, many of those bike lanes are on busy roads with high speed traffic and high parking turnover. These streets are stressful for people who bike and unrideable for more tentative riders. It does not have to be this way. Today, WABA's Action Committee for Arlington County is pleased to announce its first campaign for a Bike Friendly Ballston. Our goal, make Quincy Street a welcoming entrance into a more walkable, bikeable Ballston. The existing Quincy Street bike lanes are uncomfortably close to frequent and fast moving traffic. The bike lanes disappear at a major intersection forcing people on bicycles to merge with drivers already navigating a tricky intersection.  Delivery vehicles and double parked cars frequently block these lanes creating more merging conflicts as drivers and bicyclists try to share the same space. A redesigned Quincy Street with protected bike lanes would make a safer and more inviting place to ride. It would create a low stress connection to the nearby Custis trail. Finally, it would be the first step in a protected north-south route through central Arlington.
Read more about Bike Friendly Ballston
Kick off the Campaign with us!
On Wednesday, October 21, join our Action Committee in Ballston for a short walk on Quincy Street to see why these changes are needed. Starting at the Central Library, we will look at some of the troublesome areas and intersections that make Quincy St. an ideal place for a protected bike lane. Then, join us for drinks and discussion on the details at a local watering hole. We hope you can join us to get started on this exciting campaign. Please spread the word!
Bike Friendly Ballston Kickoff
When: Wednesday, Oct 21 6:30 pm Where Arlington Central Library 1015 N Quincy Street
Join Us