Volunteer with WABA for The Cider Ride!
WABA's third annual Cider Ride is coming up on Saturday, November 14th and we need your help to make the event a success! We have a bunch of volunteer opportunities available throughout the week of the ride and during the event itself. Check out the opportunities below, sign up, recruit a friend to help out with you or make friends while you're volunteering, and generally be awesome!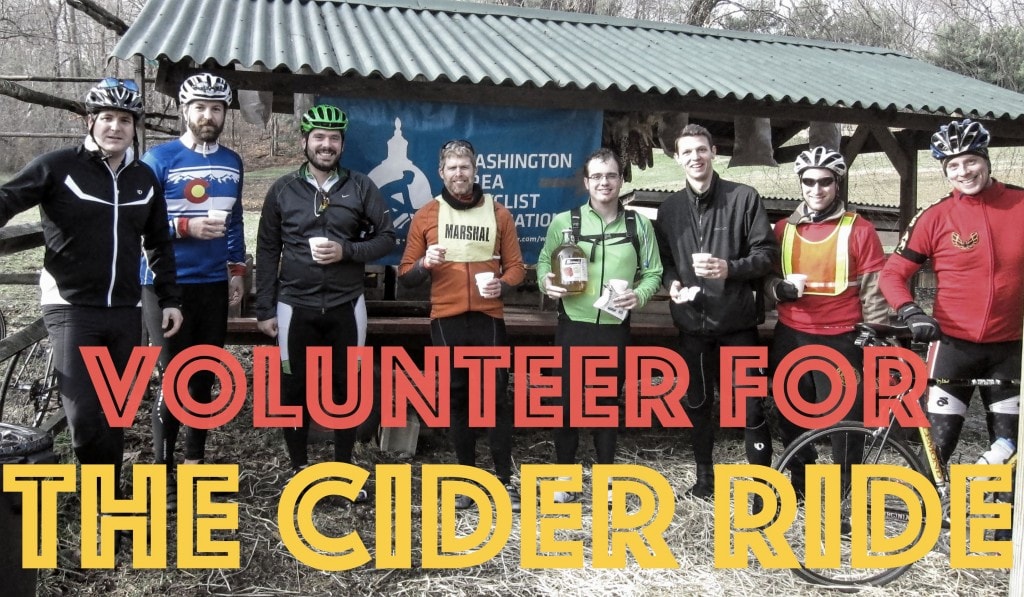 1. 
Volunteer
Night at WABA HQ
: 
Tuesday, November 10th, 6-8pm @ the WABA Office, 2599 Ontario Rd NW, Washington, DC
Join us at the WABA office for a Volunteer Night to help get ready for the Cider Ride. Light snacks and beer will be provided. Volunteers will help assemble cue sheets and first aid kits, as well as help make route signs, pit stop signs, and decorations. 
RSVP here!
2. 
Join the Cider Crew:
Thursday or Friday, November 12th or 13th, whenever you have time to help out, located @ various locations along the route
We need help 
before
the day of the event hanging signs along the route. You'll get a sneak peak of the route, and you'll get a complimentary registration for the ride on Saturday if you want to join us (or if you don't want to do the ride we will save you one of the special edition rider swag items). The Cider Crew will need to be available on Thursday or Friday during the day or evening to spend anywhere from 25  minutes to a couple hours hanging signs in assigned places along the route. We can work with you on how much time you have available and assign you to a section of the route that's best for you. We'll also provide you with the signs and hanging materials as well as a detailed route map. This is a crucial way to lend a hand, plus you get to be on your bike!  
Sign up to be part of the CIDER CREW.
3. 
Volunteer On Your Bicycle: Ride Marshals Needed
: 
Saturday, November 14th, times vary but rides depart from 8:30am to 11:30am and finish from 12-5pm.
We are recruiting volunteer ride marshals to do The Cider Ride with us! Ride Marshals get to participate in the ride event for FREE (while helping direct others, call out cues, and letting WABA staff know if there are any issues or crashed), so it's a great way to help out while enjoying the ride. Marshals should be confident going on long rides (you will choose from the 23-mile or 47-mile route to marshal), biking with traffic, and leading or providing directions to other riders. 
Sign up to be a Ride Marshal here. 
4. 
Cider Ride Volunteers
: 
Saturday, November 14th, locations @ the start (Dew Drop Inn in DC) and at pit stops (Proteus Bicycles and Buddy Attick Lake Park)
Do you want to make a difference in the biking community? We need volunteer help at the ride start, pit stops, and the ride finish and celebration. Volunteers at the start will help with rider check in, and pit stop volunteers are crucial to welcoming and encouraging riders as they arrive and depart from pit stops, while helping to pass out and replenish cider and pit stop snacks. 
Sign up here to volunteer!
---
If you have questions about volunteering, email WABA's Events Coordinator at michelle.cleveland@test.waba.org.