How Will Your Bike Ride Get Better In 2016?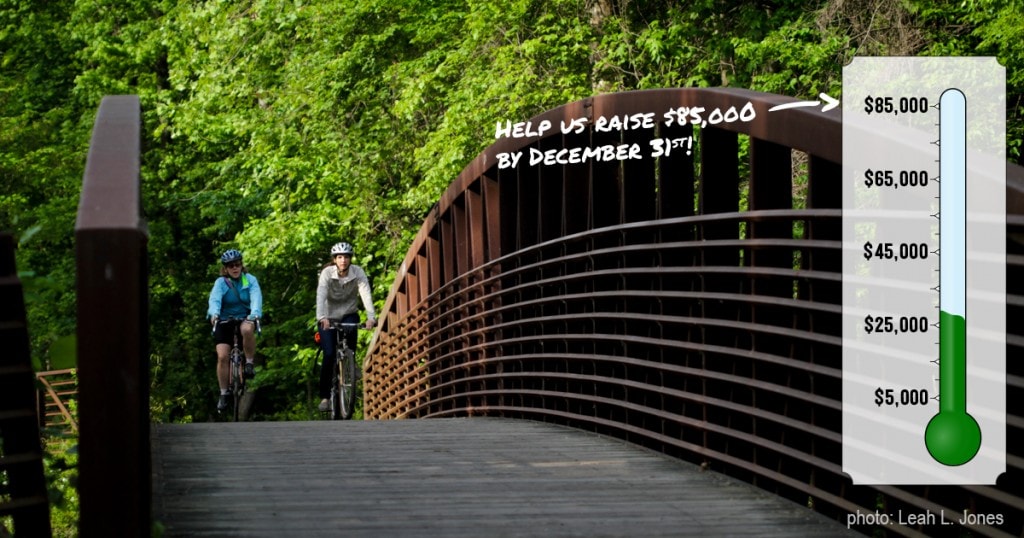 YES! We're just three days away from meeting our $85,000 goal! This is when we rely on donors like you to fund the essential work to make your bike ride better every day. Here are the top three reasons to contribute to WABA in 2016.
Your funds pave the way for concrete changes to your bike ride, like:
Making sure the Met Branch Trail gets completed.
Fighting budget cuts for bike lanes, trails, and Bikeshare expansion in Arlington and Alexandria County.
Building pressure and political will through our Action Committees for protected bike lanes in Prince George's, Montgomery, and Arlington Counties.
Ensuring a commitment to extend the Capital Crescent Trail between Bethesda and Silver Spring along the Purple Line.
Securing a commitment from NPS to repave and widen the Rock Creek Park Trail starting in 2016!
Your investments advance smart roadway laws and policies that keep you safe, like:
Holding D.C. accountable to its commitments on Vision Zero, and pushing for a regional commitment to end traffic fatalities and serious injuries.

Closing the door on contributory negligence in D.C. once and for all.

Celebrating the 3-foot passing laws in DC, MD, and VA, and ensuring its enforcement.
Your contributions support programs that empower more people, like:
Celebrating 4 years of our Women & Bicycles program, now 4,400+ strong.
Ramping up our Spanish-language outreach through education classes and our D.C. Bike Ambassador Program.
Promoting Universal Bike Education in school systems beyond D.C.
100% of our time advocating is funded by thousands of bicyclists like you. Please help us meet our $85,000 fundraising goal for better biking in 2016.