ANNOUNCING: DC Bike Ride – Let's Celebrate Life on Two Wheels
From our partners at DC Bike Ride: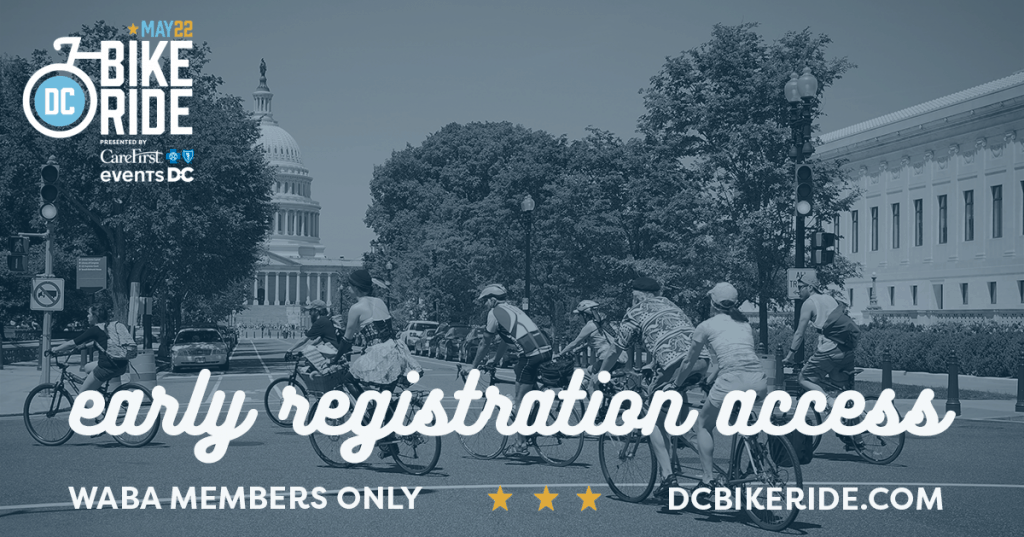 17 MILES. CAR-FREE STREETS.
We've said it before and we'll say it again, D.C. is becoming a better bike region everyday. We've been hinting about a brand new riding tradition coming to the city on May 22nd but we can no longer keep the secret to ourselves.
We're beyond excited to finally announce the Inaugural DC Bike Ride
(DCBR)!
SPECIAL OFFER FOR WABA MEMBERS: $48 FOR 48 HOURS!
We've cleared the roads! You clear your calendar. For 48 hours BEFORE registration opens the general public, DCBR invites WABA members to be the first to register for the Ride, at a special discounted rate. This deal won't last long, prices will increase February 3.  If you're a WABA Member, check your email. You'll have a code that allows you to participate in this special pre-registration. If you're not a WABA member,
JOIN RIGHT NOW
and we'll send you a code within a few minutes.
GREAT PEOPLE
Our city has one of the biggest and most welcoming biking communities in the country, and you're part of it. DCBR gives you the chance to connect with fun-loving active types, just like you! D.C.'s biking culture is something to be proud of – let's celebrate life on two wheels!
GREAT PLACES
Tell your riding buddies to get ready. The biggest cycling event of the year is almost here. Cruise the city at your own pace. Just you (and your friends), 17 miles of car-free streets and some of the most iconic sights in the world. Ride past everything from the Washington Monument and the Pentagon to the White House and the John F. Kennedy Center for Performing Arts. All culminating with a huge post ride festival in front of the United States Capitol.
GREAT PURPOSE
We're bringing people together for the pure joy of biking in the city you love. Proceeds from DCBR will benefit WABA in their efforts to deliver meaningful street safety programs in support of D.C's Vision Zero Campaign.
Learn more here.
GREAT PARTY
End your epic journey at the DCBR finish line festival in front of the Capitol on America's Main Street with great food, music and drinks! More information to come on
DCBikeRide.com
.
JOIN THE RIDE TODAY AT DCBIKERIDE.COM
To find out more about the DC Bike Ride, follow us on
Facebook
,
Twitter
, and
Instagram
. Join the conversation by using #DCBR. Circle May 22nd on your calendar, because this year's National Bike Month is going to be the best one yet!
---
WABA is a DC Bike Ride Founding Partner. This means the organizers of DCBR are paying for our promotion of the ride. In addition, DCBR organizers are making a substantial grant to support WABA's advocacy work and community organizing for Vision Zero. So, while we are not directly involved in the operation of the event, we're thrilled it's taking place and invested in its success. You should sign up. It's going to be great.