Second public meeting for the Shaw Protected Bike lane project– coming up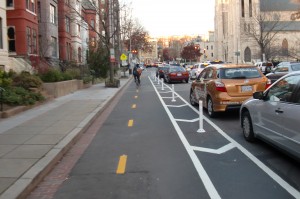 More than 1700 people have urged city officials to move forward with plans to calm traffic and install protected bike lanes from Florida Ave to Pennsylvania Ave on 6th or 9th St NW. Unfortunately, not everyone in the community is on board yet. If we want protected bike lanes through Shaw, we have to show strong support for this project
every step of the way
. DDOT will hold a second public meeting to hear feedback about this project this
Saturday, February 6th from 12pm-4pm at KIPP DC (421 P St NW)
. This week, we got a sneak preview of the project updates DDOT will present at the meeting.  The results are promising: many new potential miles of protected bike lanes with minimal impacts to parking and traffic flow. The proposals reflect our request that DDOT find a compromise that preserves the safety goals of the project while addressing community concerns.
Here are just a few ways this project will make DC a better place to live:
1. DC's kids need safe places to play.
Did you know the D.C. Public School system now teaches every second grader to ride a bike? That means thousands of six and seven year olds every year, eager to use their new skills, ride with their families, and explore their neighborhoods. These kids deserve to be safe when they head out to school and to play.
2. Low-income people need a safe, reliable mode of transportation.
 Bicycling costs a fraction of transit fares and virtually nothing when compared with the cost of driving. Reliable transportation improves employment prospects, reduces transportation expenses, and frees up money to be spent on other needs, such as housing and education.
3. Everyone benefits from bike lanes.
 More protected bike lanes mean more people choosing to get around by bike—which improves traffic flow and parking options for those who choose to drive, and reduces crowding on public transit. 
 More protected bike lanes mean fewer roadway conflicts between vehicles and bikes, fewer people riding on the sidewalk, cars traveling at safer speeds, and shorter street crossings for pedestrians—which is especially important for our children, the elderly, and the mobility-impaired.


4. 83% of residents around the 15th street cycletrack consider it a valuable neighborhood asset.
 The 15th St protected bike lanes see 300-400 users per hour during peak times. When they opened, the number of people riding bikes on sidewalks on 15th street immediately fell by an average of 56 percent, making the sidewalks safer for pedestrians.
Everyone should be safe on our streets, no matter how they choose to get around. Protected bike lanes can help.
Let's get these bike lanes built.
Submit comments in support of the project here.