March Advocacy Roundup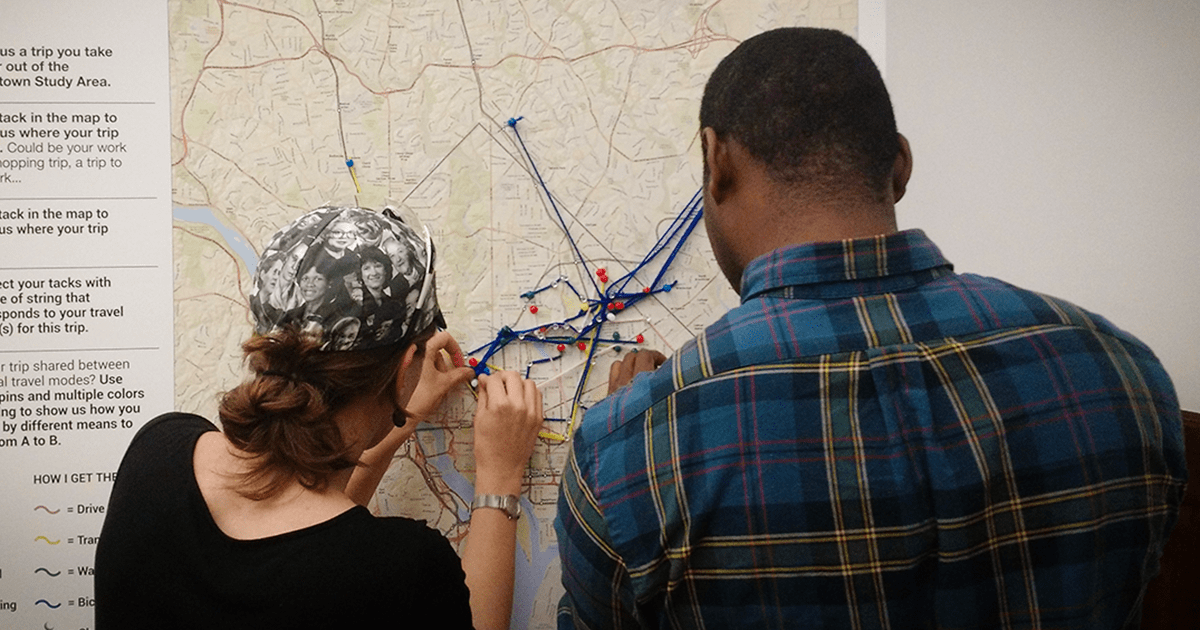 ---
We're fine tuning the way this monthly(ish) update works, so if you have thoughts on how to make this information more useful, send a note to communications@test.waba.org. Read straight through or skip ahead to updates from
Maryland
,
Virginia
, or
DC
.
Are you on your neighborhood WABA Action Committee?
All across the region great people are working to fix our streets to make biking safe and popular. They meet each month to share ideas and work together for better places to bike. Whether you're looking for a fun group, a new cause, or a wonky policy discussion, our Action Committees have it covered.
See what we're doing in your community and join us for the next meeting.
MARYLAND
Brief explanation
: The Maryland General Assembly considered three bike-related bills this session: to make the three foot passing law apply on all roads, repeal the mandatory use of on-street bicycle infrastructure, and reinstate punitive damages for victims and surviving family members of drunk drivers.
Current status:
An amended version of the three foot passing law made it out of the Environment and Transportation Committee this week. The amendment mandates that when a driver is passing another road user in accordance with one of the exceptions to the three feet law, s/he must slow and pass without endangering any other road users. Ending the narrow lane exception would be better, but this is an improvement to the current law. The amendment is being voted on by the House of Delegates this week.
Brief explanation:
Montgomery County is planning a protected bike lane network in downtown Silver Spring.
Current status
: Thanks in large part to WABA member's advocacy and the leadership of Councilmembers Roger Berliner, Nancy Floreen, Tom Hucker and Hans Riemer, the project recently passed it's biggest hurdle, funding, with a 3-0 Transportation & the Environment Committee vote in favor of increasing the budget for the program by 1.5 million dollars.
Action to take
: Get involved with the
Montgomery County Action Committee
for timely action alerts and updates.
Brief explanation
: Montgomery County is refreshing its Bike Master Plan ten years early to reflect new trends, apply new standards, and set the county on an aggressive path towards a low stress network that more residents can use and enjoy.
Current status
: Staff have released Master Plans for White Flint and Shady Grove Life Sciences.
Action to take
: Contribute to the interactive map of bicycling areas of concern:
mcatlas.org/cyclingconcerns/
Brief explanation
: Montgomery County Council publicly announced a commitment to the Vision Zero campaign to reduce traffic deaths in Montgomery County to zero by a date certain.
Current status
: Waiting for release of a county-wide action plan, promised for fall.
Action to take
: Write your County Councilmembers and thank them for their commitment; ask them to set a date certain for producing an action plan with concrete timelines.
montgomerycountymd.gov/council/members/
---
VIRGINIA
Brief explanation
: The bill (SB117) making dooring a ticketable offense passed the Virginia House (70Y-25N). The highway maintenance bill (SB669), after being recommended for approval by Committee on an 18 to 1 vote, died on the House floor. House Appropriations Committee Chair Delegate Chris Jones made a motion to refer the measure back to the Transportation Committee, whose work has already been completed for the year. More than a thousand supporters across Virginia emailed their legislators asking them to support safer laws and infrastructure for bicycling.
Current status
: The dooring bill is awaiting Governor Mcauliffe's signature by April 11.
Brief explanation
: On February 20th, thirty bicycling advocates stood in support as we presented to the County Board our proposal for building a protected bike lane on N Quincy St through Ballston. With almost 600 petition signatures, 11 businesses, 2 neighboring Civic Associations and the Ballston Business Improvement District in support, the Board directed staff to develop designs to accomplish the goal.
Current status
: Arlington County staff are developing plans for a protected bike lane on N Quincy.
Action to take
: If you have not already,
sign the petition
and join the Action Committee to keep this project moving.
---
DISTRICT OF COLUMBIA
In 2014, the District Department of Transportation ("DDOT") installed nearly ten miles of new bike lanes, including more than a mile and a half of protected bike lanes. It was a record-setting year. In contrast, in 2015, the agency installed just 4.42 miles of new bike lanes. Only 0.14 miles of those are protected bike lanes. Whether compared to the actual progress made in 2014 or DDOT's two year Move DC Action Plan goal of 7.5 miles per year, 2015 was not an impressive year for new bike lanes. There is no doubt that bike lane projects on DC's streets are getting harder. After building more than 70 miles of bike lanes, we have exhausted much of the low hanging fruit, but our peer cities are setting records and we know with the right level of commitment from the city, DC can too.
Brief explanation
: DDOT proposed building protected bike lanes on either 6th or 9th Street NW from Florida Avenue to downtown. This is a much-needed safety infrastructure project that will fill in a substantial gap in the protected bike network in the heart of DC.
Current status
: The public comment period closed March 15. WABA generated thousands of supportive comments, and turned out over a hundred people to the public meeting for the project; forty supporters testified in favor. Eleven local businesses and several local churches also submitted letters of support for the project.
Read our write up of the most recent community meeting
.
Brief explanation
: Mayor Bowser and DDOT Director Dormsjo have both committed to Vision Zero to bring traffic deaths in the District to Zero by 2024.
Current status
: The Mayor released the District's Action Plan for achieving Vision Zero and DDOT proposed regulations to implement portions of the action plan, including creating new traffic infractions and increasing fines and penalties for breaking safety laws.
Brief explanation
: Three pieces of legislation before the DC Council include a host of bicycle safety improvements, including street design policies, crash reporting, open data, bicycle / pedestrian prioritization areas, and aggressive measures to curb life-threatening behavior—like distracted, impaired, and aggressive driving.
Current status
: The bills are in the Committee on Transportation and the Environment, likely being combined into one bill, to be considered by the full Council later this spring.
Brief explanation
: The doctrine of contributory negligence is a legal dinosaur that harms bicyclists who've been hurt in a crash by making it easy for insurance companies to deny claims to recover damages for bike repairs and hospital bills. A bill before the Judiciary Committee would change this antiquated law so that if a bicyclist was less than 50% at fault, she would not be barred from recovery.
Current status
: The bill is languishing in the Judiciary Committee. Councilmember Kenyan McDuffie, the Chair of the Judiciary Committee, has made it clear through 14 months of inaction that this is not a legislative priority. There has been no move to bring the bill to a vote so it can be considered by the full Council. The bill enjoys wide support in both the Judiciary Committee and the broader Council, and would almost certainly pass, given the chance.
Action to take
: Email or call Councilmember McDuffie's office and let them know you want to see this bill (B21-0004) brought to a vote. Councilmember McDuffie's office: (202) 724-8028.
Brief explanation
: The Rock Creek Park Trail is in terrible shape. In February 2014, 2500+ area residents signed a petition demanding that the National Park Service and DDOT get in gear to repave, redesign, and fix the long-crumbling Rock Creek Park Trail.
Current status
: This outpouring of public comments got the project moving. The final Environmental Assessment was released in June 2014 and design work began. The project has been put out for bid and we just might see construction start this spring on some sections of the trail.
Brief explanation
: Three years ago, the DC Council unanimously passed the Bicycle Safety Amendment Act to prohibit DDOT from granting permits to developers to block sidewalks and bike lanes without providing safe accommodation to pedestrians and bicyclists. Despite this law, DDOT recently granted a permit to Carr Properties, a developer that is demolishing the old Washington Post building at 1100 15th St. NW and constructing a new building on the property, to close the adjacent sidewalk and protected bike lane on L Street NW between 15th and 16th streets for at least 27 months. As a result of this permit, bicyclists riding in a protected bike lane will be forced to mix suddenly into a dangerous and fast-moving car lane without any safe accommodation.
Current status
: WABA is preparing a formal letter to DDOT explaining why the configuration violates the law and providing suggestions for how to comply.
---