Montgomery County Council Should Back a Protected Bike Lane Network in Silver Spring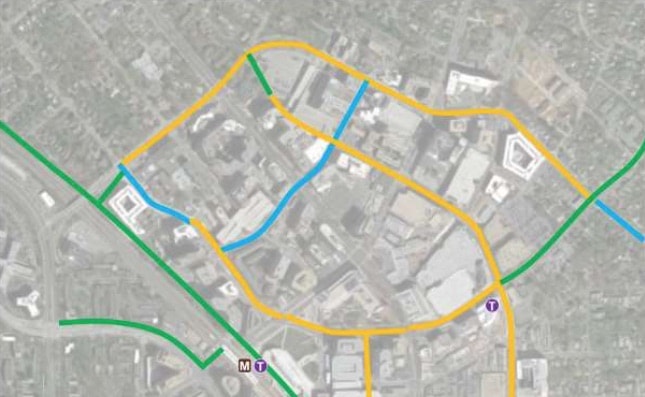 Update: 
At Thursday's T&E Committee Meeting the committee voted unanimously in support of funding a network of protected bike lanes in Silver Spring and a number of other important bike projects in the county. Thanks to all the county residents who contacted the council and special thanks to Roger Berliner, Nancy Floreen,Tom Hucker and Hans Riemer for their leadership and support for safe, popular biking in the county.
---
It has already been a year of
promising news
and
big plans
for biking in Montgomery County. Just on the heels of plans for
protected bike lanes coming to Silver Spring
 by this summer, comes a chance to create a whole network of protected bike lanes over the next five years. Yesterday, Councilmember Hans Riemer introduced a proposal to substantially increase funding to the county's Bicycle Pedestrian Priority Area (BPPA) program to speed up implementation of a Silver Spring bicycle network. The BPPA program concentrates resources for rapid planning, design and construction of pedestrian and bicycle improvements in the places they are needed most. Of the 30 designated priority areas in the county, Silver Spring CBD, Grosvenor, Glenmont, Wheaton CBD, and Randolph/Veirs Mill are getting attention first. The program is funded through the county's long term Capital Improvement Program (CIP) budget at $1 million per year over five years. The BPPA program is already responsible for pedestrian improvements at intersections, new bike parking, and the forthcoming and well-received Spring and Cedar St protected bike lanes. Councilmember Riemer proposes to expand the BPPA program's budget from $1 million to $2.5 million annually in the 2017-'22 CIP budget. This increased funding would allow for planning and construction of a full network of bikeways in Silver Spring and improvements to other priority areas by 2020. As he writes in the proposal memo, "the latest bicycle research shows that people are more likely to bicycle in lower-stress environments that provide protection from motor vehicles and separation from pedestrians. Facilities like separated bike lanes and protected intersections are crucial to strengthening the walkable, bikeable urban areas that we want for our residents." Few urban areas are better suited for these improvements than Silver Spring. By 2020, three major
regional
trails
will connect into Silver Spring's downtown core, but without improvements to the street grid, bicyclists will not have a safe route to their destination.
Read the full proposal and see the network map.
Ask Councilmembers Hucker, Floreen & Berliner to support increased BPPA funding
On Thursday March 3rd, the Council's Committee on Transportation, Infrastructure, Energy and Environment (T&E) will discuss this proposal and decide whether or not to include this funding increase in the package of recommended budget amendments. As the three standing members of the T&E Committee, Councilmembers Roger Berliner, Nancy Floreen and Tom Hucker are already strong supporters of biking in the county, but with so many priorities in the balance, we need your help to ensure they support this proposal on Thursday. If you live or work in Montgomery County, please email or call the members of the T&E Committee and tell them why expanding BPPA funding is important to you and essential to making Silver Spring into the walkable, bikeable place we want it to be. If you have the time, call into their offices to discuss the importance of this funding increase and what it will enable. Regardless of where you live in the county, the T&E committee represents you in these budget decisions.
T&E Committee Contact Details
Tom Hucker – 
councilmember.hucker@montgomerycountymd.gov
 240-777-7960 Nancy Floreen – 
councilmember.floreen@montgomerycountymd.gov
  240-777-7959 Roger Berliner – 
councilmember.berliner@montgomerycountymd.gov
  240-777-7828