Alexandria Bike Campus: Miles' Story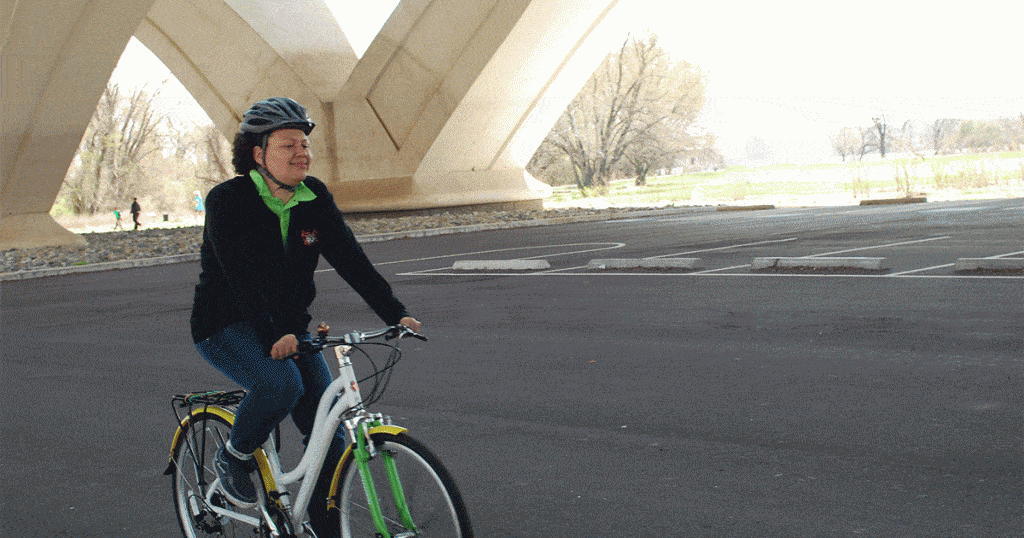 Last week, we announced
our plan
to turn an unused parking lot into the region's first ever bike campus. Thanks to our members, we're halfway to our fundraising goal! The total cost of the project is around $55,000. We're trying to secure $35,000 in grants and sponsorships, and we need your help to cover the remaining costs. Before we ask you to
make a donation
, we want to highlight one of our members and why he and his family support the Alexandria Bike Campus. Miles learned to ride in the city as an adult, and taught his daughter to ride at—you guessed it—Jones Point Park.
Hello! My name's Miles and I really don't know what I'd do without my bike. I wasn't born a bicyclist, I learned in an old orchard as a kid. Although I crashed into trees, I never had to worry about how to bike sensibly with cars, pedestrians, and other people on bikes. It was years later, in my early thirties, before I was comfortable riding in the street at all. Now I ride my bike to work 25 miles a day. Think of all those lost years between the orchard and the city streets! It was a difficult process. Even as an adult, I had a hard time getting comfortable and and feeling safe and learning to be courteous around other people moving through the city. It's even harder for kids. My kids didn't have an orchard to learn in, but places like Jones Point park are a good environment to teach kids how to fall in love with biking. It's great: safe, flat, bathrooms nearby, and a relaxing setting by the river. I'm thrilled to learn about WABA's proposed bike campus. I love the idea of a fun practice course that models our city streets, because we need a dedicated space to teach people how to ride safely around town. Think of all the years of lost biking joy we can spare them! Think of all the family excursions they'll be able to take if they can learn someplace safe! Imagine how much more fun we'd have if everyone learned at a young age how to love biking and how to bike safely around town! Thank you, WABA!
Sincerely, Miles
We need $11,750 to make the Alexandria Bike Campus a reality.