Create the Silver Spring Circle: A New Campaign for Montgomery County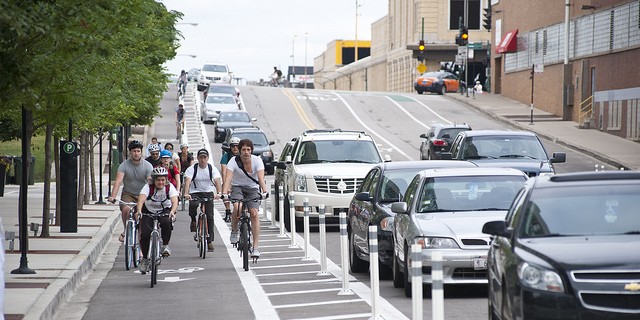 Improvements are Needed in Downtown Silver Spring
Downtown Silver Spring is growing. Young adults, families and older residents are attracted to the convenience of living near the places where they work and play. And with the dense mix of transit, offices, entertainment, shops and homes, it should be a paradise for walking and biking. But, it's not. With high speed traffic and a lack of dedicated space for bikes on the busy streets in downtown Silver Spring, most residents don't feel safe biking in the road.  Some ride on sidewalks, mixing with people on foot. But they too must contend with wide and intimidating intersections. There is a desperate need for safe and comfortable bike routes and intersections. Today, WABA's Action Committee for Montgomery County is pleased to announce a campaign to Create the Silver Spring Circle. Our goal is to make downtown Silver Spring a more bikeable, walkable place. The Silver Spring Circle would convert excess road space in and around downtown Silver Spring into protected bike lanes, and place parked cars or vertical barriers between bicyclists and car traffic. Lanes on Second Ave, Wayne Ave, Spring St, Cedar St, Fenton St, Cameron St and Ellsworth Dr, along with new wayfinding and bike parking would make most destinations safe, comfortable and accessible by bike. It would also represent a first step in connecting downtown Silver Spring to the many existing bike trails already in our region.
Read all about the campaign and sign our petition here.
Come to our Campaign Kickoff!
On Saturday, May 14, join the Action Committee in Silver Spring for a walk around the first arc of the Silver Spring Circle to see for yourself how protected bike lanes will make Silver Spring a more bikeable, walkable, and livable downtown. Starting at Spring and 2nd Ave, we will make our way along Spring St, stopping to discuss tricky intersections, design challenges, and innovative solutions. We cannot wait to share and discuss our vision for a connected, low-stress bike network in Silver Spring.
When
: May 14 9:30 am
Where
: 2nd Ave & Spring St
Click here to RSVP
Can't attend?
Sign our petition and stay in the loop.
Encouraging Developments
In February, Montgomery County's Department of Transportation (MCDOT) unveiled plans to install
protected bike lanes on Spring St and Cedar St
 in downtown Silver Spring, stretching almost one mile from Second Avenue to Wayne Avenue. In March, the Montgomery County Council's Committee on Transportation, Infrastructure, Energy and Environment (T&E) voted unanimously to support design and construction of a
complete network of protected bike lanes
in Silver Spring. These are two crucial steps, but we'll need more than encouragement to see it through. Want help make this happen? Come to our next Action Committee Meeting (the 4th Monday of the month at 7pm at the Silver Spring Civic Center
more info
)