Introducing Dero, a Leadership Level Business Member
WABA's Business Members understand the importance of a community that bicycles. Their membership supports our advocacy, outreach and education. Our business members are committed to a sustainable future of our region and are adding their voice to a growing number of bicycle-friendly businesses supporting WABA. Today meet Dero.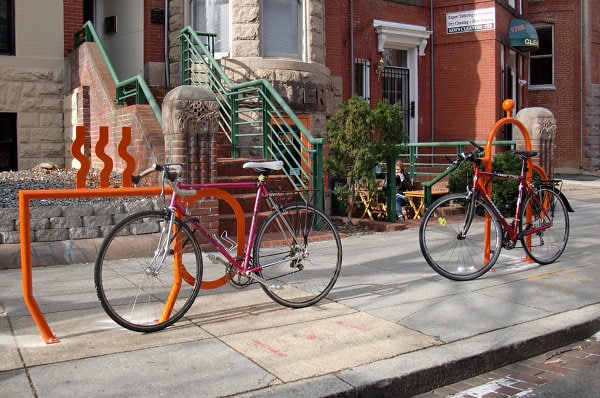 For the first presidential inauguration of Barack Obama in 2009, Dero partnered with WABA and DDOT to offer one of the largest, single-day
bike valets
in the country, with over 2,000 bicyclists taking advantage of this WABA initiative. Dero is proud to continue to support WABA's vision of a more bicycle-friendly Washington, DC metro area.
Dero
has been providing bike parking in Washington, DC for years. You may have used one of their bike racks without even knowing it. A few of their fun custom racks are in the heart of DC: Filter Coffeehouse's French press and coffee cup, Right Proper Brewery's logo hoops, and Dupont Circle's "bike here" near the Metro station. We also love Fairfax County's
Silver Line Garage
bike parking and American University's Dero Fixit public bike repair stations on campus. Each year Dero staff from their Minneapolis headquarters head to the League of American Bicyclists' National Bike Summit in DC. Over the years, it has become clear that the DC area is embracing bicycling with investments, such as Capital Bike Share, and bike lanes and trails connecting its cities and landmarks. In 2014, Dero opened a DC office to support this explosive growth in bicycling. With a local presence, they can now connect with local advocates, contractors, architects, developers, and consultants to assist in providing high quality bike parking throughout the region. Dero's bike parking expertise encompasses local city zoning requirements and architectural needs, such as free CAD layouts. They also have a
free pocket guide
for best practices for bike parking. Since 1995, Dero has been supplying innovative bike parking and bike transit solutions to architects, contractors, municipalities, and higher education campuses amongst many others. Their bike racks, repair stands, air pumps, shelters, and bike lockers are made from high quality American-made steel. With over 20 years of bike parking experience, Dero engineers have thoughtfully designed and perfected secure bike parking using the shared experiences and input of everyday bicyclists. Dero's dedication to high quality bike parking stems from their employees' enthusiasm for bikes. Dero is proud to support bicycle advocacy locally and nationally.

Do you own, work for, or patronize a business that is a good candidate for our business membership? For just $300 or $800 per year, you can show your support for a bike-friendly region and WABA's advocacy and get all sorts of perks, including your very own blog post! Details here.