Benning Road Streetcar Plans miss opportunities to improve biking and walking.
Update
: 
Read WABA's full comments here.
In February, the H St Benning Streetcar line finally rolled into service, and now moves thousands of passengers along the 2.2 mile corridor each day. Work continues on plans to extend the streetcar across the Anacostia River to the Benning Road Metro and towards Georgetown. This week, the District Department of Transportation (DDOT) is hosting two public meetings to take comments on Environmental Assessments for both plans. If implemented well, these projects present important opportunities to expand bicycle access in the Benning Rd and K St. corridors. Without attention to key details, though, they pose serious threats to safety and access. We encourage bicyclists to attend and speak up to push them in the right direction.
Benning Extension EA Hearing
Thursday, May 19 6 – 8 pm Department of Employment Services, 4058 Minnesota Ave NE
Union Station to Georgetown Streetcar Public Meeting
Tuesday, May 17 6 – 8 pm Carnegie Library, 801 K Street NW
On Benning Road, DDOT should learn from past mistakes and make the most of this opportunity
The addition of streetcars to H St. and Benning Rd created some serious safety issues for bicyclists. Running streetcars along the right side of the street places tracks exactly where bicyclists ride, increasing the risk of bicyclists catching a tire in the tracks and crashing. It does not take a statistician to understand this risk. Just take a walk down H St. The installation of parallel bike lanes on G St and I St provided a workaround, but these don't solve the problem because they don't serve the whole corridor, or deliver a bicyclist directly to her H St. destination. The Benning extension is an opportunity to learn from these shortcomings and improve the long overlooked Benning Rd corridor to be safe and accessible to bikes. The Benning Road Streetcar extension spans nearly 2 miles of Benning Road, from Oklahoma Ave to East Capitol Street at the Benning Metro. The study covers three bridges, a crash-prone intersection at Benning Rd and Minnesota Ave, two metro stations, connections to and from 295, and the regional Anacostia Riverwalk Trail. The corridor connects commercial areas, parks and recreation centers, schools, industrial areas and rapidly growing resident populations With between 4 and 8 traffic lanes, Benning Rd is dominated by the automobile. The road carries an average of 26,000 daily car trips with highest volumes west of the DC-295 viaduct near MInnesota Ave. Pedestrians and bicycle accommodations are laughable, with crumbling sidewalks as narrow as 2 feet, crossing distances up to 90 feet, and a single 5 foot shared path on the viaduct that crosses over DC-295. So, while the purpose of the project is to extend the streetcar, it is also about fixing bridges, improving unsafe intersections, and creating safe and convenient places to bike and walk. The two build alternatives represent a small step towards better bicycle access, but due to numerous compromises, are not nearly good enough. If built according to these plans, the Benning Road corridor will remain an unsafe place where very few people can to walk or bike.
The Build Alternatives
Narrowed from a wide variety of designs, DDOT is proposing two build alternatives for public comment. Both are very similar except that Alternative 1 runs the streetcar in the right curb lane, while Alternative 2 runs streetcars in the center lanes. Both alternatives would extend the streetcar to the Benning Metro Station in mixed traffic lanes. Both alternatives include sidewalk improvements, a 6-10 foot multi-use trail from the Anacostia River to 38th St NE, slight changes to bridge access, complete reconstruction of the DC-295 viaduct, and slight modifications to the Minnesota & Benning intersection. Neither alternative includes a new bike facility on Benning Road east of Minnesota Ave, neither proposes a road diet where one makes sense, and consequently, neither creates ideal bicycle facilities that comply with appropriate standards. For full details on the Build Alternatives, see
Chapter 2 of the draft EA
Improvements are Needed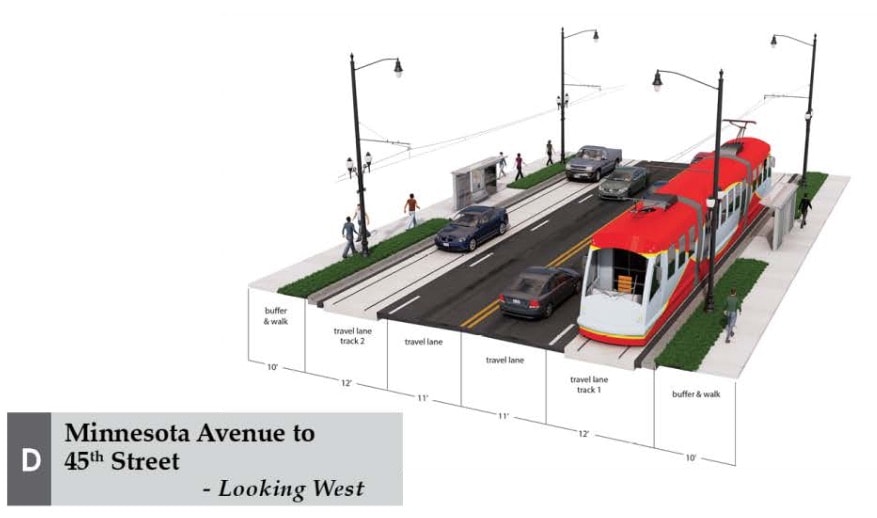 Without a more convenient alternative, streetcar tracks make biking less safe
The placement of streetcar tracks in the road has serious implications for bicyclist safety throughout the corridor. Running streetcars curbside east of Minnesota Ave without upgrading the street with a trail or protected bike lane will all but guarantee an increase in track-related bicycle crashes. This would be a repeat of H Street's mistakes. Since there is no useful parallel route proposed, Alternative 1 will decrease both safety and access for bicyclists. The Environmental Assessment fails to recognize this significant impact. Running the streetcar in the center lane, as in Alternative 2, lessens, but does not eliminate, the track-related crash risk.

The two way protected bike lane is a good idea, but needs improvement
Both build alternatives provide an option for a two way protected bike lane (cycletrack) between Kingman Island and 36th St NE to separate bicyclists from pedestrians traveling between the Anacostia Riverwalk Trail and the DC-295 viaduct. It is a good idea, and would remove a single eastbound lane, allowing for a slightly shorter pedestrian crossing. However, at only 9.5 feet wide, it is too narrow to accommodate two directions of bike travel. And, with only a 6 inch buffer and rubber curbs separating bicyclists from cars speeding by at and above the 35 mph speed limit, this design is unsafe, substandard, and unacceptable. The National Association of City Transportation Officials (NACTO)
bikeway standards
, which DDOT endorses and helped develop, call for 12 feet (8 feet only in constrained sections) and a 3 foot buffer for a two way cycletrack. This proposal is 6 feet too narrow.
Explore a road diet
Benning road is a busy auto corridor, carrying tens of thousands of auto trips each day from DC-295 into downtown. At 8 traffic lanes and a 35 mph speed limit, it is a formidable barrier to cross and an unpleasant, unsafe place to bike or walk. Adding the streetcar to this corridor without shorter street crossings, traffic calming, and lane reductions, misses an important opportunity to change travel behavior. DDOT should seriously study the impacts of removing both an eastbound and westbound lane along the entire corridor. This would allow for uncompromised bike and pedestrian facilities, additional space for greenery and stormwater management and fewer barriers to using the new streetcar as more people move to the area.
Implement MoveDC following  design standards
MoveDC, the District's long range transportation plan, calls for a bicycle and pedestrian trail on Benning Road from Oklahoma Ave to East Capitol St NE as a Tier 1 priority. At a minimum, this trail must be 10 feet wide and be designed to accommodate both bicyclists and pedestrians. Narrowing the trail at intersections and transit stops, or forcing sharp turns at intersections are  not acceptable solutions when the corridor is over one hundred feet wide. Furthermore, the actuated ("beg button") signal crossing at 36th street works against the goal of making the corridor accessible and safe for bicyclists and pedestrians, since the inconvenience of these signals encourage crossing against the light. Both build alternatives would only build half of the planned trail. If not now, when will the trail be built all the way to East Capital St?
Attend and Submit Comments
On Thursday, May 19, DDOT is hosting a public hearing to collect comments on the draft Environmental Assessment. Please consider attending and providing testimony. DDOT will also accept written comments until June 2.
More info here.