Volunteer to help DC Bike Ride happen!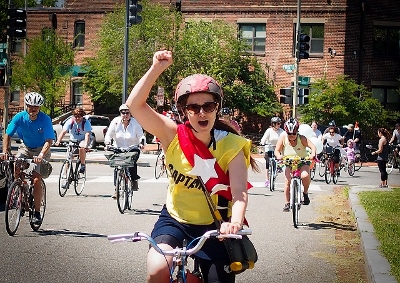 DC Bike Ride is going to be INCREDIBLE: 17-miles of streets in Downtown Washington, DC that will be fully closed to cars for you to bike on. That's a lot of car-free miles! Plus, there will be a Finish Festival party after the ride with Questlove, the in-house band of The Tonight Show, and White Ford Bronco.
But we need a lot of volunteer help to pull this thing off.
If you were around when WABA was involved with
Bike DC
, you have an idea of how awesome and big this event will be and how much volunteer help goes into it. Can you volunteer at DC Bike Ride packet pick up on Saturday, May 21st or at the event itself on Sunday, May 22nd?
Yes, I'll volunteer at DC Bike Ride!
Here's some Frequently Asked Questions about Volunteering at DC Bike Ride:
Q: What do I get for volunteering?
A: A free DC Bike Ride t-shirt, plus snacks/drinks, and a free one-day Capital Bikeshare membership! Plus, if you volunteer three times in a year for WABA then you get a free one-year WABA membership and all the perks that comes with.
Yes, I'll volunteer at DC Bike Ride!
Q: What will volunteers be doing?
A: Everything from passing out rider packets and bib numbers the day before the event to event set up that morning, showing cycling where to line up for the start and helping to marshal finished riders to the party, handing out water and snacks at Aid Stations on the route, packing up and breaking down the event once it's over, and helping at the Finish Festival with handing out food/drinks and providing information to guests.
Q: What time are the volunteer shifts?
A: There are shifts on Saturday, May 21st from 9:30am to 1:30pm and 1:00pm to 6:00pm. Most shifts on throughout the day on Sunday, May 22nd, with some shifts early in the morning and some in early afternoon.
Details can be found here. 
Q: Where are volunteer shifts located?
A: Pack Pick Up shifts on Saturday are located in DC's NoMa neighborhood at Storey Park, First Street and L Street NE. All Sunday volunteer shifts are located in Downtown, Washington DC along the route and on Pennsylvania Ave downtown.
Q: Where is the most help needed?
A: With "Packet Pick Up" on Saturday, May 22nd, and on Sunday most help is needed with the "Pre Ride Team", "Start and Finish Line Team" and "Finish Line Tear Down Crew" shifts.
Q: Will I get to watch the Finish Festival and see Questlove?
A: That depends on where you volunteer, but you should most likely get to hear the tunes! White Ford Bronco plays from 10am-11am and Questlove plays from 11am-1pm. Most of the volunteer shifts on Sunday allow you to either watch while you volunteer (like "Post Ride Party Crew" volunteers) or listen as you volunteer from your station on Pennsylvania Ave since they will be projecting sound. But when your shifts end, and many early Sunday shifts end by 11 or 11:30am, you'll be able to come over to the Finish Festival to see Questlove! Saturday packet pick up volunteers are invited to come see the whole festival on Sunday.
Q: Will I get free ride entry if I volunteer?
A: Unfortunately, the event organizers aren't able to offer free ride entry for volunteers, plus many of the volunteer shifts take place during the ride itself.
Q: What if I want to sign up to ride, but could also help out?/I already registered, but if you really need help, I could help out, is that possible?
A: Yes! At this point, we need volunteers so bad that we'll take whatever we can get. If you're registered or want to register, and can still help out for a few hours early that morning, please still sign up to volunteer! The ride itself starts at 8am, so you're best best is either taking a Saturday packet pick up shift or one of the early morning Sunday shifts, like the Pre-Ride Team from 5:45am-11am, and noting in the "volunteer notes" at the bottom of the volunteer sign up form that you are riding so you can help until 7:45am/8am.
Q: Why should I volunteer for DC Bike Ride?
A: Because this event is going to bring out thousands of people to bike all in one place at the same same time. It's going to be the greatest public showing of bicycling that this city has ever seen! You can be a part of it by volunteering, and by volunteering you are also doing your part in giving back to the greater DC region bike community.
Q: How does this event help make biking better?
DCBR organizers are making a substantial grant to us to support WABA's advocacy work and community organizing for Vision Zero. You can read more about that
here
. We will have a WABA tent at the event and will be on-site talking to people about Vision Zero and safe streets. So while we are not directly involved in the operation of the event, we're thrilled it's taking place and invested in its success. So you should volunteer!