Becoming a biking instructor
Understanding the paths that people take to get to where they are fascinates me. I'm constantly asking people how they got to today. Teaching a
City Cycling
class recently I was chatting with the Lead Instructor for the class, Jason. The lead instructor is responsible for the entire class that day. They have to manage the team of instructors and the students to ensure that the educational experience meets or even exceeds students' expectations. It's a tough but rewarding job! While watching Jason work I wondered how he got to this place—leading a group of participants through a City Cycling class. I was curious why he joined WABA in the first place and how that led him to not just teach classes for WABA, but become a lead instructor. Some of the details are unique to Jason, but I imagine that many of his greater points resonate with you, too.
When I moved to DC in 2006 to start a new career, I chose a location close to the free shuttle bus to Georgetown University.  For years I would walk to the bus stop and would arrive on campus a short time later.  One day in 2008, the bus turned a different way, the long way.  Come to find out, the Advisory Neighborhood Commission had voted to prevent any private busses from running through the neighborhood for fear that the old row houses were being shaken to the ground.  Needless to say, I was not happy about the extra time it was taking to go to the same location. The very next day I rushed to the local bike shop—I walked through the door just before closing. I selected a bike and when going to pay for it, noticed WABA membership flyers behind the register. I inquired and noticed that a benefit of being a member of WABA was a discount at local bike shops. The opportunity to save money immediately is how I entered the DC bicycling community.  Before moving to DC, I had a bike which collected dust in my garage where I left it for the new owner. I started to get emails. I learned about the City Cycling classes WABA offered in the community.  Having never biked in a city before, I decided to sign up for a class.  At the time, there were 2 distinct classes. One class focused on the fundamentals of riding a bike while the other offered bicyclists an opportunity to learn and hone hazard avoidance maneuvers. I took both. In the second class, the lead instructor, Glen, mentioned that WABA was looking for instructors to help teach classes—there were hundreds of adults requesting lessons. Who knew? What a great way to help more people feel safe on their bikes! After all, one way of achieving better bicycling is by having more bicyclists on the road.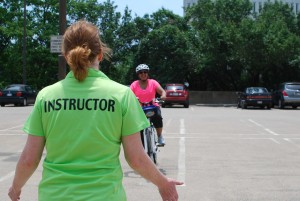 In December 2010 I completed the League Certified Instructor (LCI) seminar and became a nationally recognized cycling instructor with the League of American Bicyclists.  Since that time I have been helping WABA teach people how to ride and those that knew, how to ride better and become a "driver" of their wheeled vehicle.  After all, we share the roads with cars and should be just as predictable and respected for the safety of everyone. After teaching classes with WABA for several years, I was asked to become a Lead Instructor.  Lead Instructors are in charge of the classes and work closely with the education staff to ensure quality and consistency.  Leads allow WABA to teach classes simultaneously instead of only one class being held on each day. I appreciate the opportunity I have to teach with WABA and feel honored to be a Lead instructor.
Do you want to help make a difference in the region's bicycling community? Are you ready to make bicycling better in the region by helping more bicyclists get out on the road? Come and
teach with WABA
!