The Next Step for Paved Trails in the National Capital Region!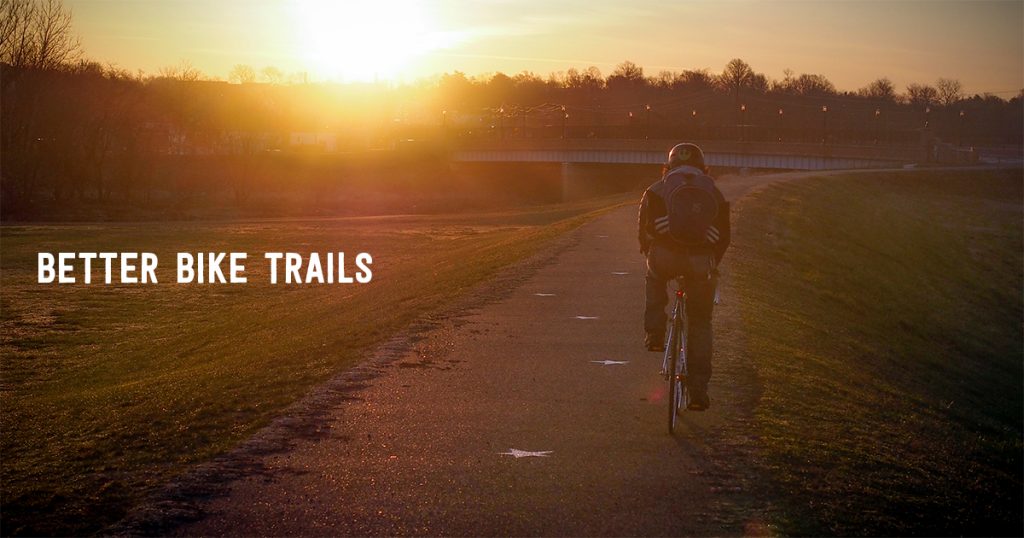 The National Park Service (NPS) National Capital Region Paved Trails Study is complete! NPS finalized the study in mid August. This study includes a set of goals and 121 capital and programmatic recommendations, in addition to a framework for prioritizing regional funding of trail-related projects in the National Capital Region. In essence, NPS is laying out the next 20 years of work on paved trails under their jurisdiction. In May,
we dug into the draft study
and facilitated public comments back to NPS. WABA submitted comments to the study, along with a petition of support signed by more than 1300 WABA members and supporters! We are thrilled that the Park Service has taken this on, and we are pleased with the results.
NPS has included programmatic recommendations including three that relate to regional coordination.  As many know, this region is very complex when it comes to trail development, and agency coordination is a vital part of creating a world-class trail network. We're pleased that NPS has prioritized regional coordination and WABA looks forward to working closely with NPS to implement the ambitious plans.
What's in the study, and why are we giving NPS a round of applause?
Here is just a small sample of the priority projects:
Extension of the existing cycle track south on 15th Street from Pennsylvania Avenue, NW to the 14th Street Bridge. (You know,

that connection we've been asking for

for years?)

A feasibility study for a cycle track or trail along the Military Road, NW right of way, from Glover Road, NW to 16th Street, NW.

A feasibility study for an extension of the Suitland Parkway Trail from the D.C./Maryland line to the Henson Creek Trail.

Improved wayfinding and standardized signage so that it's easier to navigate the trails system.

The development of comprehensive trail design standards and guidelines for the region that address trail width, snow removal, clearances, safety features, and more.

Fixing numerous bridge access problems, including the Theodore Roosevelt Bridge, Tidal Basin Inlet Bridge, and 14th Street Bridge.

Connecting the Anacostia Riverwalk Trail to the Wilson Bridge, by way of Blue Plains and Oxon Hill Farm.
Like
we mentioned in May,
it's a big deal that NPS is being so strategic about the quality and connectivity of paved trails in the National Capital Region. These are important corridors for commuting, running errands, recreating, exercising, and connecting to our natural surroundings. For those of us who believe that the best way to experience the National Parks is by bike or on foot, this is a welcome investment in a connected, world-class trail network. High-volume corridors, many of which are vital commuting routes, warrant special design, maintenance and operational considerations. With this study, NPS is acknowledging that these trails are transportation systems, and should be treated as such. We extend a big "thank you" to National Park Service for a job well-done on the final Paved Trails Study, as well as the 1300 trail users that shared their voice with us! As we move into implementation, WABA will keep our supporters in the loop on trail development updates.