It's the 2016 Membership Drive!
It's our annual fall membership drive! We disrupt our regularly scheduled updates to urge you to join or renew with WABA today. Why? Well to start with:
Join or renew
to make sure bicycling keeps getting better in DC, Maryland and Virginia.
Plus we have some limited-edition merch again this year. What will it say? Well, that's up to you: We want to make sure everyone is a part of the Member Drive fun, so we're inviting you to to
Vote for the Tote
! Join or Renew your WABA Membership and
cast your vote
for the best bike PSA and get yourself a magnet or messenger style tote bag featuring the winning message!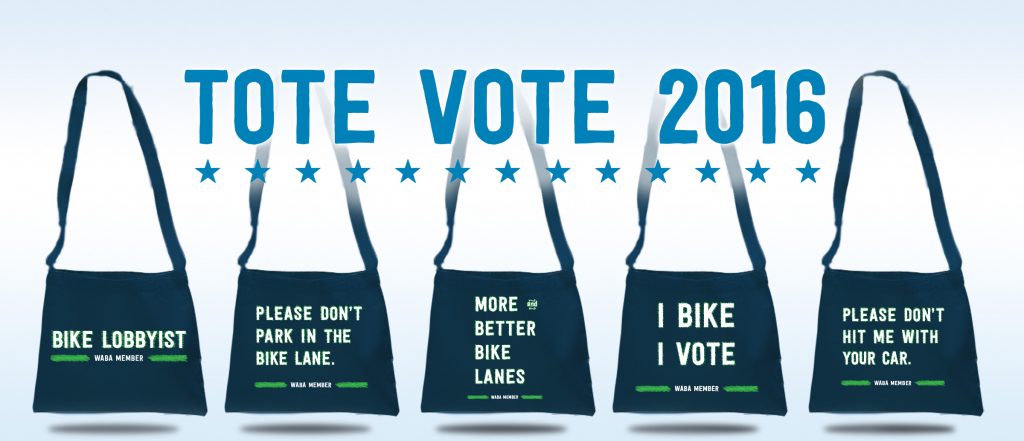 join WABA
, you join more than 6,500 residents from across the region who understand how important it is for communities to support and prioritize biking.
really
,
major
,
changes
for
better bicycling
. You gain access to a
list of local businesses
who support your decision to bike, and you gain access to a like-minded community of people who care about making biking better for everyone. Whether you bike with your children on the weekends, bike to work occasionally, or you use your bike every day to run errands around town,
your WABA membership is working to improve your bike experience.
Details:
Click here to check out the benefits of being a WABA Member!
Join or renew during our Member Drive for just $25 and get a limited edition magnet, or join at the $30 per year or higher and receive our limited edition tote bag.
Make your voice heard by voting for the slogan that will appear on the tote and the magnet when you renew.
Current WABA Members can receive our limited edition tote by renewing their membership. We'll add a year to your current expiration date.
Annual membership is good for one-calendar year. Auto-renewing memberships are charged on the same date every year and do not expire until payment stops.
Memberships bought or renewed during the membership drive week include all regular WABA Member Benefits.